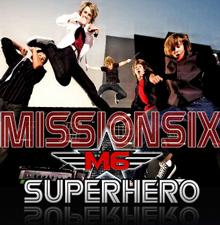 Tween pop rock band Mission Six released their debut album Superhero this week, which raises the question: Do we really need another Christian tween pop artist?
The answer is yes, especially when it's not another choreographed, hyper-energetic dance group.

I know this might be an odd choice for the Pick of the Week, but honestly, I think Mission Six might be the next big tween thing. Big, as in screaming girls and hoopla and the cover of Tiger Beat (does Tiger Beat still publish a magazine?). Get your ear plugs ready now, Mom and Dad!
They're more than just a group of cute boys that the girls will go gaga over. Mission Six has contagious energy, offering listeners a mix of pop rock and tight harmonies. And while they're basically still just kids – the guys in the band range in age from 12 to 14 – their music isn't CCM for kids. (Good grief, I hate those albums where they get a bunch of children to screech current CCM hits.)
Mission Six more like Relient K sung by guys whose voices just haven't changed yet.
Even more, they talk very openly about their faith, even calling Jesus the "sixth member of the band." Good music, good peer example, what more could a parent ask for?
Superhero might not be an album I'd pop in and listen to from start to finish, given the fact that I don't have any pre-teens, but it's certainly not something I'd dismiss out of hand just because of the member's ages, either.
But if you have kids, you definitely don't want to miss it. Superhero is a great, fun album with encouraging and positive songs that'll give the Jonas Brothers a run for their money.
You can hear Mission Six on Radio Disney or catch them on the ShoutFest tour, starting August 31. For more about the band, visit their website.