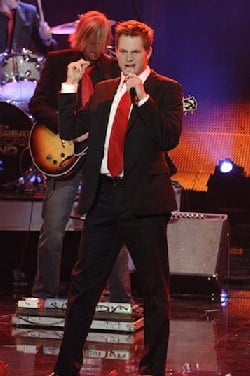 With a last name like Bierman, it seems fitting that the front man for the funky R&B big band Denver and the Mile High Orchestra, is a connoisseur of beer – root beer, that is.
While chatting with Denver at the Kingdom Bound music festival, his brother Nathan, who is the band's road manager, jokes that Denver belongs to a "root beer of the month" club.
"No, I don't belong to a 'root beer of the month club'," Denver sighs – but as I soon find out, Denver Bierman definitely takes his root beer very seriously.

Denver tells me that he got a fridge for Father's Day and he keeps it in his garage, stocked right now with 26 or 27 different kinds of root beer. Not 26 or 27 bottles of soda, he's quick to point out, but 26 or 27 different kinds of gourmet root beer.
He doesn't drink the stuff every day; instead he samples something from his stock maybe once a week. And no commercial stuff for this self-described root beer snob. He's all about the regional, gourmet beverages.
"My most absolute favorite is called Steelhead Root Beer and it's based out of Eugene, Oregon," Denver says. "Really good. I fell in love with that when I was living out on the west coast out there." He pauses as he contemplates his list of favorites. "And then I love Sprechers from Wisconsin. Goose Island from Chicago is a great one, love that one. And Fitz's Root Beer out of St. Louis is really good, too. There are so many great root beers. Have I not even mentioned Berghoff or Baumeister?"

He's hoping soon to try
Chautauqua Root Beer
or
Ithaca Soda Root Beer.
"If you want to know all things root beer," Denver adds, "you can go to
RootBeerBarrel.com
." He calls the site's owner Anthony "the man" when it comes to rating and reviewing root beer.
So what makes a perfect root beer? For Denver, "It has to have the perfect blend of a root beer taste with a little bit of a sweet creamy edge." (If he
has
to drink commercial root beer, he says A&W is probably the best.)
And what soft drink does this root beer enthusiast drink on the DMHO bus? Cherry Coke Zero, Denver says, because he doesn't need the calories, but he does need the caffeine. "I have two small children. I wouldn't survive without caffeine."
Denver and the Mile High Orchestra competed last fall on Fox's reality show
"The Next Great American Band."
The band was very vocal about their Christian faith and took third place in contest, which was decided by fans.
DMHO is currently on tour. To learn more about
Denver and the Mile High Orchestra, visit the band's website.
And to
download free mp3s of the band's songs, visit the band's MySpace page.