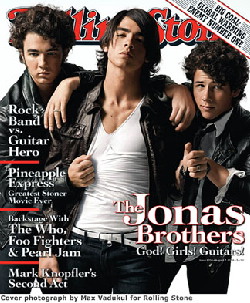 Before you freak out, understand this: I like the Jonas Brothers. In fact, I love the guys. I love that a group that admits openly that they're Christians has gained such popularity, and given pre-teen music fans clean music and Christian role models.
But I hate the Jonas Brothers commercial empire.
A few years ago, I had the chance to interview the Jonas Brothers. It was right after they released their first album in the Christian market. Nick was maybe 14? I know Joe didn't have his license yet.
During the interview they were probably exactly like they normally would be around the family dinner table. I thought then that their parents probably spent a lot of time listening to non-stop chatter from the two older boys and silence from the more serious and younger Nick. (And somewhere at the table would be the youngest, phantom brother, once referred to by their father as the "bonus Jonas.") But all in all, the guys were honest, sweet and fun, willing to talk openly about their faith. I enjoyed chatting with them very much.
And sure, I thought their music was cute, but never in my wildest dreams did I think that a few years later they'd become bigger than oxygen.
Remember, I grew up listening to Donny Osmond and I lived through my own daughter's consuming obsession with Hanson. I like a catchy pop song as much as the next person.
But honestly? Haven't we had just about enough JoBros by now?
Here are 5 things I hate about the Jonas Brothers (the JoBros commercial empire, that is):
They're treated like little more than money-making machines. Right now, these guys open their mouths and dollars falls out, and the label execs will ride that train as long as it has steam. I don't like watching teens being treated like commodities.
The focus on making money over artist growth breeds mediocrity. OK, so they have a couple of catchy songs on their albums and whatever they're doing certainly drives young girls crazy. But did you see them perform on the finale of "So You Think You Can Dance?" They sounded off key and looked like they were on stage for the first time. Lack of talent? It's hard to tell, since their only job right now is bounce around on stage and drive girls crazy. But I think they're better than that. Remember, Nick performed on Broadway before he landed a record deal.
You can only burn a candle at both ends for so long before it stops giving off light. Yes, the guys are Christians, but I'm not talking about the "you have to use your fame to sing songs about Jesus" argument. I'm talking about maintaining a healthy personal spiritual life. Being a solid Christian on a daily basis amidst the music industry fracas is much harder than just warbling Jesus songs from the stage, and I don't have a problem with their chaste puppy love music as long as they live offstage what they say they believe. But the schedule that these guys are on is ridiculous. There are only so many hours in a day, and if most of them are focused on commerce (how many more products can we plaster their faces on?) there's little time left for spiritual growth. And without a strong spiritual foundation, it's just a matter of time before those worldly accolades can lead even the most stable star down a Britney-like path.
The need to be a group keeps them from developing individually. Rumor has it that when Joe Jonas was offered the lead in "Camp Rock" the guys' dad said Joe could only do it if the film had roles for all three brothers. I get it, since their popularity has been built on being a trio of brothers, but at some point the guys have to explore their own talents and interests. Even I had to admit that Joe did a good job in the movie and who knows if there isn't an acting career in his future. There really wasn't any need for all three to be in the film – unless the whole reason for the film was to cause red alert, pre-teen female screaming for two straight hours.
And the last thing I hate is that their heart throb, teen idol status sends mixed messages about their stance on purity. I love that the guys wear purity rings and I believe they believe in what the rings stand for. But when you see them posing seductively on the cover of Rolling Stone (really, who thought that was cute?) and talking about their first kiss in Tiger Beat (or Bop or PopStar or whatever teen magazine you pick up), without an explanation of what purity really means, there's the danger that what they share with their peers is simply a message that says, "Wear a purity ring but still be consumed with lusting after hot guys."
Admittedly, the guys don't have much (or any) control over what the media writes about them. While most of the articles I've read touch on their faith, I haven't seen anything go into detail. And I haven't seen an article about them recently in any Christian media. They may be more than willing to talk about purity and Jesus, but the media might not be interested in reporting that right now. But if they slip up? Well, then their faith will be fodder for the tabloids. And that's why it's so important to pray for them, and for them to maintain a strong spiritual life.
I do like the guys and wish them all the best. I'm glad that God has given them success and believe that in the end, they'll try to use it to glorify Him.
I am also glad that I don't have a pre-teen living in my house – because there's no telling what kind of mental state I'd be in if I had to listen to the JoBros all the time. I grew up on "Puppy Love." "MMBop," I could hande. But "BB Good?" Not so much.
RELATED POST
Joe Jonas, Taylor Swift, Camilla Belle and the mixed message of celebrity romance

5 things I learned from Jonas Brothers fans
If you like JoBros, you might like this new band, Mission Six
Pick of the Week – tween sensation Mission Six
Check out the Joanne Brokaw's "Christian Music Year In Review," a look back at the stories you were talking about on the Gospel Soundcheck blog.