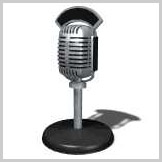 Dunham+Company marketing company recently released results of a survey of Christian radio listeners and I thought the results were interesting.
Let me state for the record that I listen to very little Christian radio. We actually have three or four Christian radio stations here in Rochester, but when the radio is on I'm tuned into WHAM talk radio, for Glenn Beck and local host Bob Lonsberry. I'm a talk radio junkie. When I want music, I put in CDs.
Before we get to the results, first a little secret about Christian radio programming …

Most people don't know that Christian radio stations base their music programming on a fictitious listener they call "Becky," a woman in her 30s or 40s, married, with kids, typical soccer mom. Which explains why almost all Christian radio is jam packed with adult contemporary, pop or light rock from a handful of big name artists.
You don't find much cutting edge music on Christian radio and it's difficult for a band to break in, because there are so few spots open for new acts. Each week, a station may add one new song, but have a hundred to choose from. If they think "Becky" will like it, they'll give it a shot. If it's MercyMe, Third Day, Michael W. Smith, Steven Curtis Chapman or one of the big name, CCM standards, it gets airplay. If it's Destination 7, MuteMath, Mat Kearney or one of the unknown, outside-the-box artists, chances are they'll never get a spin.
The survey results support that – a little bit.
According to their results, the typical Christian (defined as "people who believe that Jesus Christ is the Son of God and that by believing He died for their sins they have eternal life") radio listener is:
A women 45-54 years of age
Pentecostal/Charismatic (with non-denominational and Baptists also highly represented)
Living in the South (inclusive of Oklahoma, Texas, Arkansas, Louisiana, Kentucky, Tennessee, Mississippi, Alabama, West Virginia, Virginia, North Carolina, South Carolina, Georgia, and Florida)
Politically conservative
An activist
Attends church regularly (71% of listeners say they attend church frequently while 1 in 10 say they never attend church)
When they broke the stats down, they found that those who listen primarily for music (56%) are women 18-44 who attend church less frequently and listen to Christian radio less frequently. Listeners who tune in for teaching or sermons (40%) were split evenly between older men and women (55+) with a very high incidence of those who are older than 65; they also attend church frequently and were loyal, regular listeners of Christian radio.
Perhaps the first group isn't listening regularly because there's so few choices for music. Or maybe they're getting music online or on web radio.
Either way, what this probably means is that while most listeners may want music, the chances that you're going to be hearing more Christian rock on Christian radio are slim. Adult contemporary and teaching or sermons will continue to dominate Christian radio, because where the listeners are, the ad revenue dollars are.
So tell me: do you listen to Christian radio? If so, do you listen for music or teaching? If there were more Christian music stations with rock or pop music, would you listen more?