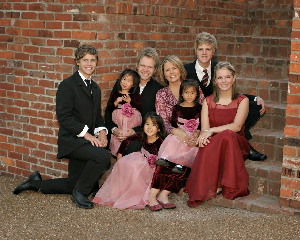 You've probably heard by now that on Wednesday, May 21, 2008, Maria Sue Chapman, youngest adopted daughter of Christian recording legend Steven Curtis Chapman and his wife MaryBeth, was killed in a tragic accident in the family's driveway.
Laura McPherson, a spokeswoman for the Tennessee Highway Patrol, said that Maria was struck by an SUV driven by her one of her older brothers, who apparently did not see the girl in the driveway. McPherson called it a "tragic accident" and said no charges are expected.

According to a statement issued by Chapman's manager, Jim Houser, the family had just hours before the accident celebrated the engagement of eldest daughter Emily, and were preparing for a party later that evening to celebrate their son Caleb's high school graduation.
I'm always at a loss when reporting stories like this, and my heart goes out to the Chapman family. What do you do, what do you say?
I had a chance to sit down with Steven Curtis Chapman during Gospel Music Week this past April. Chapman took time to share the story of how Maria came to join his family.
It started when his daughter Emily was in grade school, long before the Chapman family had considered adopting any children, long before Shaohannah joined their family, long before they dedicated their lives in ministry to orphans.
Chapman says that when Emily was six or seven years old, she would come home talking about a friend named Maria and how she wished Maria could come to live with the Chapman family.
Maria came from a troubled home, and her story and his daughter's concern for her inspired Chapman to write the song, "Who's Gonna Love Maria?" which appeared on his 1992 album, The Great Adventure.

Fast forward 15 or so years. The Chapman's have adopted two girls from China, Shaohannah and Stevey Joy, and Chapman was again in China doing ministry when he met a little orphaned girl with a heart condition. When he asked the family caring for her what her name is, they told him, "We call her Maria."
"And I'm like, You've got to be kidding me," Chapman says, "'cuz all I can think about is, Who's gonna love Maria, who's gonna love Maria?"
When he got home, Chapman told his family about Maria, admitting that, with five kids, adopting another child would be crazy. But the more the family talked and prayed about it, the more it became clear that God was giving them the green light to adopt one more time.
So they adopted Maria.
In a twist of irony, Chapman's label released his new album,
Cinderella
, just days after Maria's death. In a press release, Dan Raines & Jim Houser, Chapman's managers, acknowledge the awkward timing and add, "[A]s many of you know this edition of the album had been planned for several months, based on the success and impact of the song 'Cinderella.' Perhaps, it's more important than ever that the message of this song reach as many people as possible. May God be glorified."
Condolences can be sent to the Chapman family at P.O. Box 150156 Nashville, TN 37215.
In lieu of flowers, the Chapman family requested that donations be made to Shaohannah's Hope Ministry, P.O. Box 647 Nashville, TN 37065 or www.shaohannahshope.org/maria
RELATED POSTS
Steven Curtis Chapman and family on Good Morning America, Larry King Live, and in People Magazine
Steven Curtis Chapman and family in this week's People magazine, links to Larry King and GMA interviews
Steven Curtis Chapman performs live on The Early Show; to appear on Fox & Friends
Steven Curtis Chapman get nomination for Beliefnet's Most Inspiring Person of the Year