"Mom, if you love us and you hear us, move your eyes," whispered 8-year-old Megan Smith.
She'd been brought to Bethesda North Hospital in Cincinnati, Ohio, to say goodbye to her mother, Lori Smith, who the doctors said had suffered irreversible brain damage and would never awaken from a coma.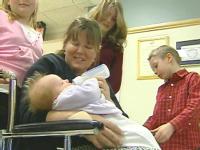 With a heavy heart, dad Michael Smith had brought his four kids to their mother's side to say goodbye before turning off life support, reports Michael Inbar for the Today Show.
But little Megan wasn't ready to give up. She leaned over her mother and with the faith of a child asked her mother to give them a sign.
Incredibly, "Lori moved her eyes, and that was the first sign that I knew Lori was there," Michael Smith said. "I didn't know if Lori was being mom for the last time or what, but God really gave us a miracle and brought Lori back to us."
"Some 56 days after Lori went to the hospital for what appeared to be a no-drama birth of the couple's fourth child, she is — despite long odds against her — back at the family's home in Morrow, Ohio," reports Inbar.
Just a few days ago, Michael and Lori, along with Megan, Katie Beth, Hayden and newborn Delilah, appeared live via satellite on the Today Show to tell Ann Curry their story.
Everything seemed routine. Lori Smith entered the hospital and delivered baby Delilah.
"But things went horribly wrong," reports Inbar.
"First Lori had a headache, then 15 minutes later she started throwing up, and then was totally unresponsive," Michael told Today. "They couldn't wake her up. They called the Emergency Response Team. They couldn't do anything — they thought she was dying."
Lori's heart actually had stopped beating. It stopped twice during an agonizing 49-minute period before doctors and nurses managed to get a regular heartbeat again.
"They learned Lori's system shut down because blood clots formed in her brain, liver and kidneys, and that she had also suffered a stroke that went to her brainstem," reports Inbar.
But here's the rest of the story: