Hunter Schulz, 10, and Carter Sharpe, 9, have been buddies since they were toddlers. So, it's not surprising that the Broken Arrow, Oklahoma, fourth graders are rather nonchalant about an extraordinary event a while back.
It seems Hunter saved Carter's life.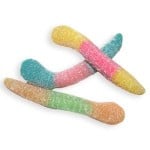 Hunter was plunking around on his mom's piano. He can't really play — just likes seeing what tunes he can pick out, sometimes rolling his knuckles on the black keys. That's what he was doing when Carter was scarfing down sour gummy worms as he was goofing around in a chair.
"I was wiggling around and fell off," Carter told Tulsa's Fox Channel 23.
And the candy got stuck in his throat.
"At first I thought he was joking," Hunter told the TV station.
But it was very real — and Carter was in trouble, as you can see in this video: