PLEASE hit the "Like" button above to share the Good News and add http://blog.beliefnet.com/goodnews to your favorites. New stories every day!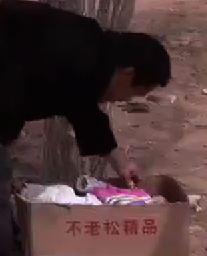 One is seven couples struggle with infertility. It was no different for the Wen's. They spent the better part of 20 years praying and seeking the help of many doctors but still were not able to conceive. "I was so sad,especially when I saw other parents with their children," Mrs. Wen told CBN. "But my husband and I prayed about it for a long time and decided that maybe God had a different plan for us."
That planned changed with Mr. Wen saw a curious box on the edge of the road. As he approached, he began to hear crying. It was a baby girl. It was immediately apparent that she had a severe cleft lip which was likely the reason she had been abandoned.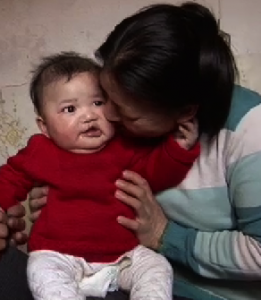 Mr. Wen brought her home, he told CBN he "fell in love with her" the minute he saw her. Mrs. Wen felt the same. Despite her physical deformity, this was the daughter they always dreamed of. They named her "Beautiful" because, in their eyes, she was the most beautiful thing they had ever seen.
Her cleft lip was severe enough to require surgery but it would take 9 months salary for the Wens to be able to pay for it. That's when CBN stepped in. A neighbor who saw "Beautiful" informed the Wens that CBN had paid for his son's surgery. Long story short, they did the same for "Beautiful" and we are happy to report that she is eating well and completely healed. Mrs. Wen summed it up for CBN, "I never thought there could be someone that really cared about what we were going through, but you did. You showed us God's great love. Thank you for saving Beautiful. Now, she will have a beautiful life."
WATCH THE AMAZING STORY ON VIDEO
[bcvideo vid="969813874001″ pid="96582452001″ height="410″ width="480″]
Looking for more miracles? Check these out!
Beliefnet's Top 10 Sports Miracles