PLEASE hit the "Like" button above to share the Good News and add http://blog.beliefnet.com/goodnews to your favorites. New stories every day!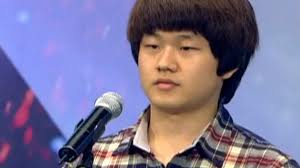 Koreans audiences watched live TV as a plain looking Sung-bong Choi came on their screen for the first time. He said his dream was to be normal, he's always felt out of place but he feels when he sings, he becomes a different person. His story unfolded for the Korea's Got Talent audience and it was a hard one to listen to. The stoic 22 year old told of being in an orphanage since he was 3 and living on his own since he was 5. He sold gum and drinks on the side of the road to get by and often had to sleep in public restrooms as he had no family. He proclaimed, "I'm not a good singer, I just like it." The thoughtful judges gaves him some encouragement and asked him to sing. He opened his mouth and in an instant, his tragic life up to that point was transformed. He sang opera, a deep, powerful voice that delivered an inspired song. The audience was overtaken with emotion, tears flowed freely as Sung-bong earnest sang the lyrics that translate:
In my fantasy I see a just world,
There everyone lives in peace and honesty.
I dream of souls that are always free,
Like clouds that fly
Full of humanity down to the soul
I dream of souls that are always free,
Like clouds that fly
Full of humanity down to the soul
The panel of judges barely held it together as they easily passed him to the next round of the show. A sober Sung-bong Choi was grateful but it clearly hadn't sunk in that life as he knew it was finally going to be better. Good luck Sung-bong, we'll be rooting for you, you are a glorious testament that no matter what we are faced with, we can rise above!
WATCH HIS AMAZING AUDITION WITH ENGLISH SUBS BELOW:

WANT MORE GOOD NEWS? CHECK OUT THESE INSPIRING STORIES!
Infertile couple finds baby on the side of the road
America's Got Talent Host Nick Cannon Thanks His Mom for Giving him Life
Beloved Dog Lost then FOUND thanks to Facebook
Miracle Baby! Woman Told There Was No Hope Beats Incredible Odds!