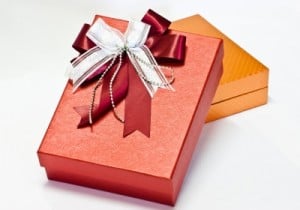 If you live with a chronic illness, or if you have constant pain that interferes with movement or other daily activities, you might be dreading the upcoming gift-giving season. Not because you don't have much money to spend on loved ones (although you might not) and not because you don't like navigating the malls or surfing the web. No, you might be dreading it because you know that you'll receive one or more gift(s) that just won't work in your life. And then will come the "oh, I have no idea how I'm going to use this, but I have to because so-and-so will be hurt if I won't." Or the, "I can't eat this. What will I say when so-and-so asks what I thought of it?"
To nip the gift disappointment in the bud (and stave off the ensuing guilt, etc.), I suggest taking charge! No, not "charge" as in buying gifts using plastic. I mean, approach the people with whom you exchange gifts (or who you know will offer you a token of the Season) and make suggestions such as, "I understand how hard it can be to give gifts to someone who has significant health issues, so I thought it might help you make a decision if you know that this year, I really need [name the thing]." or "This year, why don't we just go out to a nice meal [or other alternate activity], instead of exchanging gifts." or "This year, I'm asking my friends that, if they really want to give me something, perhaps they can make a donation in my name to [charity dealing with the illness you have]."
You can also couch your requests and comments in light of past years' giving:
"You know, I used to be able to eat [name the food], but I really can't anymore. But I really enjoy [name something you can eat]."
By making your constraints and needs known, you're sending a clear signal that the other person, if acting out of care and love, will pick up and run with.
If, on the other hand, you indicate you cannot, for example, eat sugary foods, and the other person gifts them to you anyway, having made yourself clear, you cannot feel guilty by refusing or re-gifting the gift to someone who might enjoy it.
Peace,
Maureen