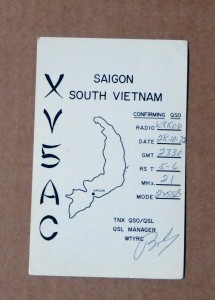 Tucked in a box amid other QSL cards that I found after my father's death last year is a single, fading reminder of a powerful way to pray today.
If you're not familiar with what they are, a QSL card is a record sent from one radio ham operator to another that confirms the contact that the two made while operating their radios. The cards are usually postcard-sized and sometimes contain only the pertient information of the contact – the date, radio frequency, call letters of teh ham sending the card, and what antenna was used, for example. Othertimes, a ham might scribble a note, or use a card with a region-evoking map or picture.
The card that sits on my desk right now, the one in the picture on this blog, confirms contact that my father made with a radio ham in Saigon, South Vietnam, on October 28, 1972. Simply signed "Bob," the card includes an outline of South Vietnam and the location of Saigon. Nothing especially remarkable there, but I keep going back to the date.
In 1978, my father was avidly pursuing his hobby of operating a ham radio from the safety and comfort of the basement of our home. With war all around, and the future unsure, I wonder what "Bob's" life was like, then, when he made contact with my father over his radio. Was "Bob's" ham radio activity a mere hobby, or his determined way of maintaining contact with a world outside, more peaceful, perhaps, more sure?
Less than 3 years after the date on the card, Saigon finally fell. I wonder, did Bob make it out beforehand? Or, did he broadcast to the last, still reaching out?
Today, there are people in other war-torn places, trying to reach out to the world beyond, the world where life is not so punctuated by violence. As I look at this card, I'm reminded that each day, I need to include these anonymous, but precious, people in my prayers, and ask the Lord to keep them safe and hopeful, no matter what. I might not have the equipment or ham radio license my father did, but prayer is mighty powerful – and God hears each of our voices loud and clear!
Blessings for the day,
Maureen