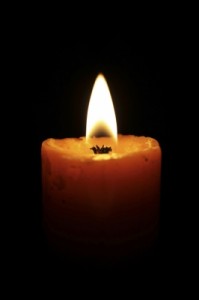 If you're like me, you find that your prayer list gets longer each day. World problems, individual petitions, personal prayers – we skip around this globe quite a lot when we sit down to have our quiet time with God.
But if we're too scattered with our prayers, we might lose sight of the very important type of prayer that helps us strengthen and face our personal health challenges with grace and wisdom. That kind of prayer I call "centering prayer."
By "centering," I mean that we pray all the things on our lists and then envision our prayer focus inward. Very inward. Deep into the heart and soul, the life that is ours, given by God. With this action of going to the core of our relationship with God, we leave the other petitions aside. It's okay. We have already prayed them. And, even before our prayers, God knows what it is we will/would pray for.
In this centered time, then, we forget the limited words we use to express our prayers, fears, and worries. We leave them aside, too, and instead look purely and simply at the center of our joy, life, and love – God.
Centering prayer enables us to be truly quiet, profoundly still. And in the stillness, it fills us up with new, strong breath, energizing and inspiring. After a time, we will emerge from this deep place of prayer and continue with our lives. But we will be changed, in a good way, from the time spent "just being," from allowing ourselves to "just sit" with God.
There's no right or wrong amount of time to spend in centering prayer. It's up for each of us to decide. The important thing is that we include it in our regular prayer, and allow ourselves to grow in faith and fullness – and joy!
Blessings for the day,
Maureen