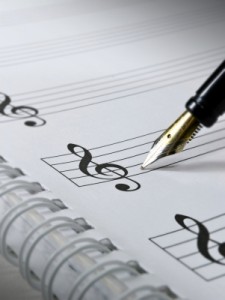 Even if you are not musically inclined, when you're stuck in a rut, hole, or other foot-freezing, spirit-stunting space in your life, there's nothing like adding a grace note to get you back on your purposeful path.
What's a grace note?
It's a gentle, brief addition of a lighter (in music, usually higher) tone that, when grace-fully applied, can turn an ordinary line of music into something very special. Singers add grace notes to make a common melody all their personal own. Composers add them, too, as a dash of expression to individualize their phrases.
In life, a grace note can be as simple as bringing a fresh flower indoors, taking a beloved book off the shelves and reading, going through your telephone book and dialing up someone you've lost touch with.
In faith, a grace note is an addition, however small, to a routine of prayer and reflection. A study of a part of Scripture you've struggled with in the past, or a punctuation of praise when you're in the middle of a dull household chore.
Grace notes abound in nature. Against the sky, a bird dips and dives and, maybe, lands on a branch nearby. A breeze brings back a certain memory that warms you in the midst of a personal cold spell. A frozen pond, ordinarily seeming barren, becomes a playground for a dog exploring the winter world.
That little extra something. A spark of difference that can light a new energy and resolve.
Stuck? Add a grace note – and sing a whole different song.
Blessings for the day,
Maureen