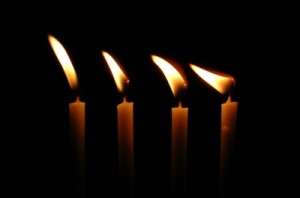 It's crunch time, now. No matter how physically impaired you might be, if you're looking forward to Christmas, you undoubtedly see a lot of "musts" in your path between now and December 24/25. Errand. Doc appointments. Visits. Travel, perhaps. Present wrapping. Budget figuring. It's an endless list. But, know what? I've found one of the most important things I can do during these hectic days is sit back and listen.
It doesn't have to be for hours on end, and it doesn't have to be in utter isolation from everything at home or at work. But even a few moments spent gathered, quiet, and open-eared can help re-settle the spirit and rejuvenate the you that awaits those "tidings of great joy." Even better, add to those moments a favorite Christmas carol, one that evokes deep comfort and maybe takes you back to a simpler, less hurried time.
So often, in the last days of Advent, we put off the thought of relaxation. "I'll put my feet up when the holidays are over," you might think. Or, "When everything's done, then I'll rest." But this procrastination also puts off personal enjoyment of the season and denies you a precious gift today: Christmas is all around now! God's love is poured out for us now!
And we can sit back and listen now! And, the wonders we shall hear!
Blessings for the day,
Maureen