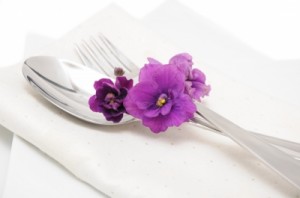 Hold onto your waistlines!
One of the most challenging parts of the holidays is eating, especially if you have a restricted diet to begin with. The temptations – "Just one cookie won't hurt," "You can always work it off afterward," or "I only make this at Christmas, and it's a special recipe passed down for generations" – abound and as the days move along, our willpower gets sorely tested. Guilt (people go to such trouble with holiday dishes), a feeling of responsibility ("there are starving people in…") and sometimes embarrassment at being "different" because of your diet can all come into play.
But, along with all of this holiday "chatter," there is also the truth: Because of your health issues, you need to be careful about what you eat.
Sound egotistical? Unreasonable? Ungrateful?
No, not at all.
At the personal level, you are the one who has the health issue, and you, not anyone else, will have to deal with the aftermath if you go overboard (ignoring your diabetes, for example). At the social level, yes, there is peer pressure galore at this time of year. But there is also an overarching spiritual focus that asks us to cultivate peace, good will, understanding, love, and charity – what better way for you to foster this than to gently but firmly explain your situation and ask for understanding instead of unhealthful encouragement?
You can help others be more practically caring by offering to fix a dish for a special meal – and sharing it with everyone. You can still engage in the conversation and caroling of an event, even if you cannot enjoy the array of sweets prepared for it. And when you are able to, you can minimize your portion sizes so that you can have a taste of the season without overdoing.
To reinforce your willpower, talk with your doctor before the holidays about what he or she recommends in terms of diet. Use your support system to encourage you and bolster your resolve as the days of the holiday season unfold. And use your other senses to celebrate this time – the smell of crisp air and pine trees, the sound of bells and laughter and music, and the feel of soft sweaters and warm hugs can go along way to making the Season sense-ational while you avoid a dietary disaster!
Blessings for the day,
Maureen