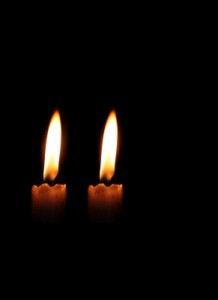 Advent Day 8: What is your light?
What a beautiful time of year this is! Decorations in bright reds and greens, silver and gold adorn homes and shops and schools and streets. And, the lights! Those beautiful lights!
For Advent, starting today, we light two candles on the Advent wreath. The Jewish people celebrating Hannukah will begin lighting candles on their menorahs. And of course, there are lights on trees, bushes – everywhere! Even within ourselves.
Of course, I'm not speaking about a flammable kind of light. No open flamed candle or blazing bonfire. But, just as there are different kinds of lights during this holiday season, each of us has a different way of bringing God's love and brightness to the world. Yes, even those of us who live with ongoing pain and serious illness. We have light, too, to hold, to give and to share.
A smile that helps others find God's care expressed. A kind word to a complete stranger. A gift of time, attention, or graciousness – these and other things are our lights to shine in our world.
What is your light? And, how does it shine?
Blessings for the day,
Maureen