What do you give someone who has Alzheimer's disease? What can you possibly say or do that will express the love and gratitude you have for him or her, even if the disease is progressing and he or she is slipping away from who they once were? And, what do you give those who are caring for the person with Alzheimer's disease?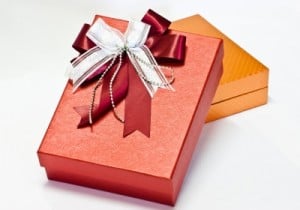 I recently spoke with Jean Dickinson, Vice President, Communications and Marketing, for the Alzheimer's Association, California Southland Chapter. To answer exactly the questions I have posed above, she and the Association have put together lists of suggestions for thoughtful and creative holiday gift-giving. course, each situation is different; it's a good idea to ask for suggestions from the caregivers of the person to whom you wish to give a gift. But here are some general suggestions:
1) Helpful tools to make bathing easier, including: A waterproof radio, a shower/bath chair, a pretty night light, "soap-on-a-rope," a hand-held showerhead, non-slip floor coverings
2) Clothing: Easy-to-remove clothing in comfortable, machine washable fabrics, slip-on shoes/slippers with Velcro closing, leg warmers (be sure to ask about appropriate sizes before purchasing gifts of clothing).
3) Personal items: A photograph album filled with people and places that are a part of the person with Alzheimer's past, videos of family get-togethers, a tap or CD or favorite music or messages from family and friends, a Medic-Alert + Safe Return identification bracelet/necklace (for more information, go to www.alz.org)
Specifically for the caregiver:
1) Offer to help prepare part or all of a holiday meal or other holiday duties (mailing packages, stamping and addressing Christmas cards, etc.)
2) Give gift cards to stores that have useful gadgets for the home, or medical supply stores (these might seem mundane, but they will be appreciated!)
3) Arrange for a friend to host a "spa" afternoon for the caregiver – and provide for someone else to take over her duties for that time – or just arrange for the caregiver to have a free afternoon or evening, perhaps to see a movie or just get extra sleep.
4) Give a donation to the charity of the caregiver's choice.
There are many other ideas on the Alzheimer's Association website: www.alz.org. And, if you have discovered a good idea for gift giving, let us know!
Blessings for the day,
Maureen