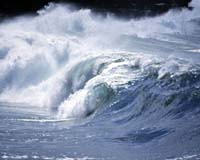 I agree with Brian McLaren: The recent letter written by James Dobson and others to the National Association of Evangelicals – in reference to Rev. Richard Cizik's leadership about global warming – is a sign of progress; evidence of the growing numbers of evangelicals who embrace environmental stewardship as a Christian duty. I am also grateful for the courage and leadership of Rev. Cizik. He has certainly taken a risk to preach the truth about creation care, and in doing so he empowers others to do the same.
It is also refreshing to see that James Dobson and friends acknowledge that "the earth is warming." This is consistent with reports from the Intergovernmental Panel on Climate Change (IPCC), a body of 2,500 climate experts from around the world who synthesize climate science findings and present them to the world's political leaders. The most recent IPCC report not only documents the warming of the planet, but demonstrates with even more confidence that the changes in the climate are a result of human actions. Further, the scientists tell us if we continue current levels of carbon dioxide emissions, we can expect warmer, rising sea levels; increased frequency of droughts, floods, and fires; increased intensity of hurricanes; and shifts in growing seasons and infectious disease patterns, just to name a few likely consequences.
Sadly, we can expect these consequences to take the greatest toll on communities who are least prepared and least able to protect themselves – the global poor, coastal communities, and low-income communities here at home. Among other factors, a lack of adequate medical care, secure housing and good nutrition makes such communities more susceptible to the impacts of climate change. Incidentally, these communities have historically contributed the least to the global warming problem. The United States, which comprises only 4 percent of the world's population, has contributed over 25 percent of the carbon dioxide emissions. If global warming does not qualify as one of the great moral issues of our time, something is wrong with our moral compass.
Rather than dwell on the potential consequences, I want to emphasize that the story is not finished! The scientists tell us that we have time to avoid the most devastating impacts of global warming if we begin to act now. Remember the story of Jonah, who was called to preach the coming destruction of Nineveh? The people heeded his warning and turned from their ways, repenting and seeking God's mercy and forgiveness. We, like the people of Nineveh, can heed the warnings and take steps to be better stewards of the earth – not only for ourselves, but for our neighbors, our children, and God.
It seems to me the message of Deuteronomy 30:19 is relevant: "I call heaven and earth to witness against you this day, that I have set before you life and death, blessings and curses; therefore choose life, that you and your descendants may live." In my travels around the country, I see evangelical Christians and people of all faiths choosing life, embracing their call to environmental stewardship in unique and inspiring ways. I see them choosing to conserve energy, choosing energy efficient technologies in their homes and congregations, and advocating for renewable energy sources and community-wide solutions. I see them gathering in worship to offer prayers of thanksgiving and petition for God's creation. With this growing momentum, people of faith can turn the tide on global warming and other threats to God's creation. The question remains: how will you respond in light of the biblical call to stewardship?

Lyndsay Moseley is Associate Representative for Faith Partnerships for the Sierra Club. Learn more about the Sierra Club's work with communities of faith. Click here for ten things you can do to reduce global warming today.