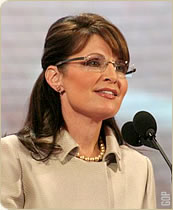 Sarah Palin's selection has split the Republican Party between the religious conservatives and everyone else, evoking the failed nomination of the evangelical Harriet Miers (right) to the Supreme Court three years ago. That split was more visible than every this week.
Here's what the new Pew poll found:
There also are sizable differences in opinions among religious voters about whether Palin is well-informed. Nearly two-thirds of white evangelical voters (65%) say they think of Palin as well-informed, compared with just 41% of white non-evangelical Protestants.
According to The Huffington Post, meanwhile, conservative columnist George Will has a much lower opinion of Palin:
Famed conservative columnist George Will told a gathering of Senate aides on Monday that Gov. Sarah Palin is "obviously" not prepared to assume the presidency if necessary, two event attendees told the Huffington Post.

Appearing at a Senate Press Secretaries Association reception at the Cornerstone Government Affairs office, Will offered a harsh assessment of John McCain's running mate.

Palin is "obviously not qualified to be President," he remarked, describing her interview on CBS Evening News with Katie Couric as a "disaster."
Will isn't the only non-evangelical Republican to voice doubts about Palin. So has former Bush speechwriter David Frum. Those were the same guys at the forefront of the campaign to bring down Harriet Miers in 2005, even though she had the loyal support of social conservative heavies like James Dobson because of her evangelical background.
Is the God gap within the GOP growing wider now that the great uniter, George W. Bush, is exiting the scene?
6