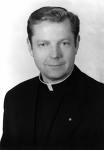 The Archdiocese of Chicago has put Rev. Michael Pfleger on leave after his sermon about Hillary Clinton's supposed white entitlement complex at Barack Obama's old church a week and a half ago.
Pfleger's punishment is the latest in a rash of reprimands from the Catholic church for political actions on the parts of priests, parishioners, and politicians, even before the general election has formally gotten under way. E.J. Dionne wrote yesterday of Obamacon Douglas Kmiec (read his God-o-Meter Q&A) being denied communion recently, saying the incident could have much larger ramifications:
…[I]t is the opening shot in an argument that could have a large impact on this year's presidential campaign: Is it legitimate for bishops and priests to deny Communion to those supporting candidates who favor abortion rights?
A version of this argument roiled the 2004 campaign when some, though not most, Catholic bishops suggested that John Kerry and other pro-choice Catholic politicians should be denied Communion because of their views on abortion.
The Kmiec incident poses the question in an extreme form: He is not a public official but a voter expressing a preference.
And you thought 2004–when there was a Catholic nominee for president for the first time since JFK–was the year for controversial Catholic Church forays into presidential politics.

5