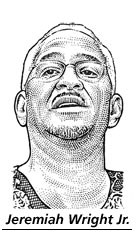 To call Lanny Davis, former special counsel to President Bill Clinton, a supporter of Hillary Clinton's presidential candidacy doesn't really do his role justice. He's more like an honorary member of Clinton's campaign. So when he goes for Barack Obama's jugular this morning in The Wall Street Journal over Obama's response to Rev. Jeremiah Wright's controversial sermons, it's hard to believe he doesn't have Clinton's official blessing:
[I]f Sen. Obama wins the nomination, he needs to understand that this issue goes well beyond Clinton partisans. Now is the time to address these questions, not later.
Clearly Mr. Obama does not share the extremist views of Rev. Wright. He is a tolerant and honorable person. But that is not the issue. The questions remain: Why did he stay a member of the congregation? Why didn't he speak up earlier? And why did he reward Rev. Wright with a campaign position even after knowing of his comments?
There's one audience Davis is courting here: super-delegates.

9