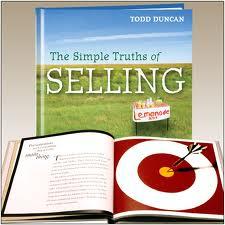 An excerpt from The Simple Truths of Selling by Todd Duncan
It's usually the first thing to come up. "How much will it cost me?" asks the customer. We then dodge the question to avoid running them off before we have a chance to explain the value of the product.
Sure, there are those who pitch low prices and for them the price question is welcome. But regardless of where your price falls on the industry scale, it's not the cost that matters most to customers.
Consider one auto insurance's bold message to their potential customers: Call us and we'll give you our rates and the rates of five of our competitors – even if they are cheaper. What message does that send if you are thinking about buying auto insurance? For starters, it tells you that the company is more interested in your satisfaction than in getting you to buy.
Of course they don't want you to go to one of their competitors, but they're willing to bank on the fact that having a trustworthy insurance company is more important than a cheap one. So they're not afraid to offer you some helpful advice. "Here are your options," they say, "and we'll help advise you on which one is the best fit for your needs – even if that means introducing you to another company." It's an innovative way to highlight your intentions and, in the end, it builds trust.
There is always the chance you will lose a customer on price; but why not make it about more than price from the beginning. Offer them advice that indicates you care more about their overall satisfaction than their money. If they still choose a competitor after all, be ready when that other company falls short because you'll be the first person they call. And you won't have to prove yourself twice.
To learn more about The Simple Truths of Selling, please click here!
Reprinted by permission of Simple Truths (c) 2012. In order to protect the rights of the copyright holder, no portion of this publication may be reproduced without prior written consent. All rights reserved.