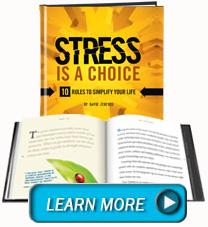 The following is from Stress is a Choice by David Zerfoss
I've had the pleasure to get to know Joe Gibbs, the three-time Super Bowl championship coach and three-time NASCAR championship team owner.
You can say Joe leads a very active life – one full of things to do and people to see – whether he's on the racetrack or on the football field.
One day, I got a glimpse into one of the rules Joe lives by. It's something he carves out only after time spent in a personal relationship with God.
And that's his family time. And in this instance, I'll refer to it as "Pat's Time."
As with all busy executives or famous people, in order to get on Joe's schedule, you have to go through his personal assistant and you have to want him on a date not already marked out as "Pat's Time."
What's Pat's time? Pat is Joe's wife. As I mentioned earlier, first is Joe's time with God, second comes his time with family. Everything else comes after those first two.
Many people may know Joe as a religious man. Well, I can tell you, he's also religious about "Pat's time." It's as simple as that.
If you want him for something, at best it will be number three in priority. No matter how busy life gets for this world-renowned coach and leader, he has his priorities straight in life. He chooses to carve out what is truly important in his life, and in a particular order he feels is most appropriate.
Do you have an order for the priorities in your life or is everything in competition with each other? Choose to carve out some "Pat's time" in your life (whatever this may mean for you). You just may find it's simply the best time of your life.
To learn more tips on how to simplify your life, or to look inside of this great book, please click here. Stress is a Choice can be found in the Inspired Faith Gift Store from Beliefnet.
Reprinted by permission of Simple Truths (c) 2011. In order to protect the rights of the copyright holder, no portion of this publication may be reproduced without prior written consent. All rights reserved.