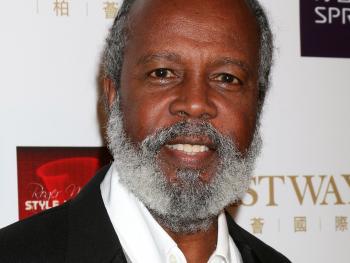 Clarence Gilyard Jr., best known for his roles in Hollywood action films, died at age 66. The actor played the role of a pastor in the original "Left Behind" movie and became a professor. His death was announced by Nancy J. Uscher, the dean of fine arts at the University of Nevada, Las Vegas, where Gilyard taught as an associate professor.
"It is with profound sadness that I share this news," Uscher said in the statement Monday. "His students were deeply inspired by him, as were all who knew him. He had many extraordinary talents and was extremely well-known in the university through his dedication to teaching and his professional accomplishments. He had a national and international following through his celebrated work in the theatre, in film, and television." The cause of death has not been released.
According to UNLV, Gilyard ventured into acting after studying Theatre Arts at California State University. He landed his first role on the TV show "Diff'rent Strokes" in 1981. In 1986, Gilyard made his film debut in "Top Gun," in which he played Sundown, one of the elite fighter pilots. Two years later, he was cast as Theo, the computer expert who helps Hans Gruber's terrorist group, in the thriller "Die Hard."
He got his big primetime TV break in 1989 when he landed the role of Conrad McMasters on the NBC legal drama "Matlock," starring opposite Andy Griffith. He then portrayed Chuck Norris' crime-fighting partner Jimmy Trivette on "Walker, Texas Ranger." Gilyard's acting credits also include "The Karate Kid Part II," "CHiPS," and the "Left Behind" films.
"It's with great sadness to hear of the passing of a dear friend and co-star, Clarence Gilyard. For nearly a decade, we had many great times working together, and we both loved bringing the bad guys to justice," Chuck Norris wrote on Facebook. He added, "My thoughts and prayers go out to his wife and children. You will be deeply missed by all who knew you. May you Rest In Peace, my friend. Until we meet again."
Despite his accomplished acting career, Gilyard stepped away from acting in 2006 to start teaching at UNLV and directing productions at the university's Nevada Conservatory Theatre.
"I'm wired to teach. And I'm a professional, but the profession has to feed the classroom. It's what stimulates my characters because I'm in touch with people's lives in the 21st century," he told the Las Vegas Review-Journal in 2017.
"I work best as an artist when I'm in a fertile arena. That means creative and imaginative. Being with all those millennials — I don't understand what they're saying, but I'm siphoning off their energy." He did, however, make a brief return to the screen in 2021, when he reunited with Bruce Willis and De'voreaux White for a "Die Hard" battery commercial.
Gilyard told CMGlobal his daily quest eventually became to make everything he does for God a prayer. "I have come to realize that my approach to this life is necessarily evolving: evolving and maturing into a critical daily request to our good God to help me make mine, my life and my labors, my work, a prayer," he added in the 2018 interview. Gilyard leaves behind his wife, Elena, and their son, Peter.