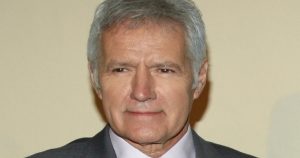 Alex Trebek, the longtime host of the popular game show "Jeopardy!" died on Sunday, November 8, 2020. He was 80 years old.
Trebek got his start as a TV host on the Canadian music program "Music Hop" in 1963. From there, he moved on to host "Reach for the Top" in English and French, "Strategy," "the Wizard of Odds" and "High Rollers." With his work on "High Rollers," Trebek became one of only two hosts to emcee shows in both the United States and Canada.
During the 1970's, "Jeopardy!" had repeatedly been on and off the air, but Merv Griffin wanted to bring the show back. Trebek shot two pilots for the revival of "Jeopardy!" and the revival sold. When the show began running again in 1984, Trebek was tapped to host it.
Trebek continued to host "Jeopardy!" even after suffering serious medical issues. Between 2007 and 2017, Trebek suffered two heart attacks and underwent brain surgery without giving up his role as host. He also spent six weeks in a cast after he attempted to chase down a burglar who broke into his San Francisco hotel room. In 2018, he floated the idea of retirement but ended up signing a contract to continue hosting through 2022. All his plans were thrown asunder, however, when he announced that he had been diagnosed with stage IV pancreatic cancer in March 2019. Trebek said his prognosis was poor but said he would continue to fight the cancer and host "Jeopardy!" as long as he could. With his typical humor, he joked that his contract obligated him to continue hosting for three more years. Before his death, the "Jeopardy!" host said he already knew what he'll tell viewers on his final episode of the popular game show.
"I've kind of in my mind rehearsed it already," Trebek said in an interview with ABC. "What I would do on that day is tell the director, 'Time the show down to leave 30 me seconds at the end,'" he continued.
During that time, Trebek said he planned to tell his beloved fans goodbye and to be kind to his successor.
"I will tell people don't ask me who is going to replace me because I have no say in that whatsoever," Trebek said.
"But I'm sure if you give them the same love and attention and respect that you have shown me for the past 30-however-many years, then they will be a success."
He continued: "Until we meet again, God bless you and goodbye."
The show will go on, but there is no doubt "Jeopardy!" will not be the same without its famous host of 36 years. Trebek is survived by his wife of 30 years, Jean, and children Matthew, Emily, and Nicky, and his millions of fans. There is no doubt he will be missed.