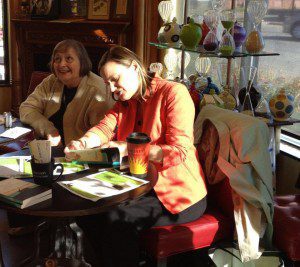 I'm feeling very humbled and grateful today and wanted to express that on the blog. Thanks to everyone who has helped to make these last two weeks so special in my life as a writer, either by dropping me a line about Flunking Sainthood, coming to an event, or tweeting about it. I appreciate your support so much. The last two weeks have been a little overwhelming, actually.
Here are some highlights if you are interested in knowing more about the new book.
1) Last week I did a book event at Benchmark Books in Salt Lake City, owned by my friend Curt Bench, one of the smartest indy booksellers I know. We sold out of books before I even began to speak, which was a first for me as an author. That's a nice problem to have! The store videotaped me reading from the book and answering questions about it, which you can access here:
2) This weekend I did another book event here in Cincinnati at the Episcopal Church of the Redeemer, my husband's amazing congregation. The bookseller handling the event (The Bookshelf in Madeira) told me that she loved Flunking Sainthood so much she ordered a whole case of 60 books from Paraclete and told her colleague that she was sure she would sell out of them by Christmas. Her colleague thought she was crazy. Well, now she has sold out of all those and is going back to order more. That feels terrific. If you're in Cincinnati, stop by the store on December 3, when I'll be signing.
3) There's been some lovely feedback in the early reviews and press coverage. Today I got the amazing news that Flunking Sainthood has been selected as one of Publishers Weekly's top ten religion books for 2011–a very big deal for a book from such a small press. Also, the her.meneutics blog of Christianity Today has chosen it as a fall favorite.
This is by far the most personal book I've ever written, so it's particularly gratifying to have such a positive response from readers and booksellers. I've been astonished and humbled to see people buying multiple copies to give as gifts — even people I don't know. I mean, it was great when I did a signing in my hometown and old friends and teachers came out of the woodwork to buy a book and give me a hug. But it's affirming in a very different way when total strangers go out of their way to let me know that something I've written has touched them.
So, thank you. Thank you for helping to spread the word about this little book. At one point in the writing process, I came very close to giving up this project entirely, so demoralized was I by all my failures to be the kind of Christian I felt God wanted me to be. It was difficult not only to fail at spiritual practice (not once, but twelve times) but to then admit those failures to the world by way of a memoir. If I've managed to confess my failings in a way that helps us all to laugh at ourselves and perhaps allow a shard of grace to shine through to relieve us from the burdens of perfectionism, then maybe it's all been a success after all.
Squirrel!