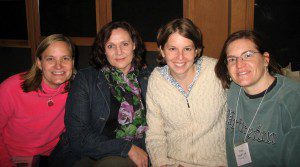 I'm coming off a weekend high: a fabulous New Hampshire retreat with my peeps, an opportunity to try out scenes from my forthcoming book Flunking Sainthood on a new audience, and a chance to hang out with three of my best friends from the Princeton days, who moved heaven and earth to be there for this mini-reunion. The leaves in New Hampshire were just beginning to turn, and the air had that lovely "sun was warm, wind was chill" quality that Robert Frost once identified.
I'm talking about the annual Exponent II retreat, which I've heard about for years but have never attended. You can read a recap of the weekend here. After speaking at past retreats of Midwest Pilgrims and the Denver Area Mormon (DAM!) women, however, I had a pretty good idea what to expect: whip-smart, funny women at their best . . . and worst. By worst I mean that these retreats are a place where Mormon women feel free to simply be themselves, knowing that they will be loved no matter what. That they — we — are not being judged. That grace will be as plentiful as the fun-size Snickers bars on every table, and that no question, doubt, or inadequacy is too shocking to voice in such company.
Most of us don't bring our whole selves to church on Sunday. Many retreatants stated in one way or another that they can't be completely honest in their wards, which is a sad reflection of a kind of failure within the LDS community. It's like the old joke that the Ensign's regular column called "I Have a Question" is usually followed by "Why Would You Ask That?"
Although there were stories of deep pain at the retreat, from early widowhood to betrayal to isolation, there were even stronger stories of hope and transformation. I think that everyone, myself included, left New Hampshire stronger and more connected to God than when we arrived.