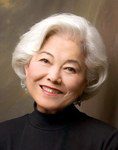 I'm traveling this week, so there's not much time to blog today. At the FAIR conference, I caught the second half of a fascinating presentation this morning on the LDS Church and immigration policy. At the Sunstone Symposium I've had the pleasure of meeting other bloggers whose writings I have loved: Kathryn Lynard Soper (Segullah), Lisa Patterson Butterworth (Feminist Mormon Housewives), and others.
Here are some quick links to Mormon miscellany this week:
1) I was interviewed for this Deseret News story about religious kitsch and what it means to have pictures of the temple, CTR rings, and the like in Mormon life. I also talk a little about my favorite items of religious kitsch from other faiths, particularly Catholicism.
2) I was so sad to learn of the death of Sister Chieko Okazaki, one of the leading lights of a beautifully progressive Mormonism. You can read Peggy Fletcher Stack's beautiful obituary from the Salt Lake Tribune here.
I got the privilege of meeting Sister Okazaki a couple of times (at Sunstone, no less), and she was a truly great spirit. My favorite of her books was Lighten Up!, which encouraged kindness and not taking ourselves so very seriously. Which is pretty good advice for all of us I suppose. May she rest in peace.
3) I'm one of the panelists in this week's Mormon Matters podcast about Mormon testimony meetings. Here's the description:
In this episode, Mormon Matters host Dan Wotherspoon and panelists Brent Beal, Brian Johnston, and Jana Riess explore various aspects of one of Mormonism's most regular (and sometimes it seems regulated) rituals: the monthly opportunity for church members to bear testimony. The discussion ranges from the nature of the expectation that those bearing testimony, including children, will focus on particular truth claims, to the peculiar way Mormonism encourages members to extrapolate from experiences of feeling "the spirit" within a gospel context to conclude that all other LDS claims are therefore true (and even that this is the "one and only" true church), to broader considerations about the expectation that spiritual journeying will end in an expected outcome. Panel members also share their own experiences of learning to appreciate fast and testimony meeting as empathetic listeners for others as well to authentically share their own testimonies.
Have a great weekend, everybody. I will eat Lion House rolls for you while I am here in Utah.