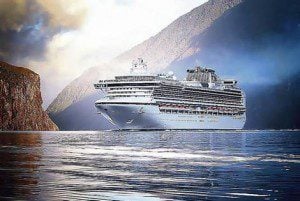 Home from Alaska! (I know I didn't actually tell you all that I was going on vacation. I was going to do this, and let you know where the valuables and the spare key are kept, but then I had second thoughts.)
So here's a rundown, minus all the photographs that I haven't yet uploaded. I'm mostly writing this not for my regular blog readers but for those folks who, like me, want to read reviews of other people's experiences with particular ships before booking or taking a cruise. So, today on my blog I'll review the Sapphire Princess and its amenities, and next Wednesday I'll talk about Alaska and the various shore excursions we took. On other days we will return to our original blogramming to talk about religion and whatnot. Especially all the whatnot.
So, a little background: This was the third cruise for my husband and me, and the first for my mom and my daughter. None of us had ever visited Alaska before (and now hope to someday go back). Phil and I have sailed once on Princess and once on Celebrity, both times in the Caribbean.
Princess impressed me again with its great service and attention to detail, especially in the dining rooms. One night in the Savoy restaurant, one of the waiters told me I looked familiar and we were trying to figure out why. I mentioned that Phil and I had been on a sailing of the Caribbean Princess, and he said he had once worked on that ship, but that was way back in 2007. That was exactly when we took our last cruise. Somehow, with all the thousands of passengers this man has waited on, he remembered my face. Phil said it was probably because I had tripped on him or something (!), but I prefer to think that the waiter is just one of those people with an incredible memory for faces, and that he works for a company that understands the importance of that kind of personal interaction.
The Ship
The Sapphire Princess is a lovely ship, full of enough tucked-away spots that you rarely feel the full force of the 2,700+ passengers and 1,100 crew members aboard. I am always looking for quiet places to read, and my unexpected find on this cruise was that the best place to read during the day was not the library (which was very nice but idiotically located immediately off the busy, music-filled atrium) but the Skywalker bar up on the 18th floor. To get there, you have to go all the way aft and take the stairs or elevator to the 16th floor, then take the special elevator or escalator up to 18. This place had gorgeous views and was totally deserted during the day, even on sea days.
The ship's cabins were very good, with plenty of storage for two people. To our surprise and delight, we were upgraded to adjoining cabins with balconies! Those turned out to be wonderful for watching wildlife; Mom and I saw two eagles swoop right past the ship. I've never had a balcony cabin before, and now I understand what all the fuss is about. One evening, Phil and I wrapped up in coats and blankets and just watched the sun set from our balcony. It was breathtaking. It didn't hurt that we enjoyed sunny weather every single day we were in Alaska—in fact, the weather was a darn sight better there than it was in Cincinnati.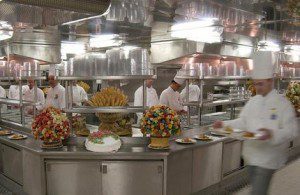 Food
I'm not sure if it's just my impression or if the line has made changes to its cuisine, but the food on this cruise seemed quite a bit better than what I remember from 2007. The formal dining experiences were superb, but where I really noticed improvement was in the casual dining in the Horizon Buffet, where we often ate breakfast and lunch. Everything was fresh, and the variety was terrific. It was great to see how responsive the wait staff were to special requests from international passengers (rice at breakfast, or Kimchi).
Over the course of the week I didn't have a single thing that didn't taste good, and many of the dishes were outstanding. How many vacations can you say that about?
Entertainment
I think that entertainment is one area where Princess could use some work. The "Piano Man" show is one we saw on our other Princess cruise four years ago, and the "I've Got the Music in Me" one was new to us but kind of silly. I mean, you expect cruise entertainment to be glitzy and a bit over the top, but I felt bored despite the obvious talent of the performers.
Fitness and Spa
On my last Princess cruise I was able to attend three yoga classes, the first two of which were packed. This time around, though, nobody showed up for yoga, and the fitness center won't hold a class unless at least four people come. I wound up doing my yoga alone in the mornings, which was actually very nice for me. But I got the impression that the fitness center was a bit disorganized overall; the times of some classes had been listed incorrectly in the ship's daily newsletter, and several people went away disappointed.
I splurged on one spa treatment. (I basically only ever do this on cruises.) On the final day, Steiner offered a discounted sampler experience with a neck and shoulder massage, facial, and foot massage. My favorite part was the facial, which felt fantastic, but the massage was downright painful. My therapist opened with a lecture about how massage was the key to removing toxins from our polluted bodies, yada yada. She was dead set on hammering out those toxins, and I was basically fine with keeping them in if it meant I could avoid being pummeled. I know I am basically a weenie, but she was harsh, and surprisingly brawny for someone who appeared to weigh 95 pounds. She kept telling me to relax and I kept wondering how I was supposed to relax when I was secretly terrified of what she might do next.
However, one of the coolest things about the spa is that after you've paid a lot of money to be physically abused you can go weep softly in the sauna. 🙂 On that morning I had the sauna all to myself, which was great. In fact, the whole locker room is unexpectedly elegant, with large private showers and waffle weave robes. The spa also features an adults-only pool and two hot tubs that people can use even if they haven't paid for a spa treatment. The pool is very quiet up there, maybe because the Alaska weather lends itself more to hot tubbing than regular swimming.
Children's Area
Because school was still in session when we cruised (and, to be honest, because Alaska attracts an older crowd than a Caribbean cruise), there weren't really all that many kids on the ship. Much of the time there were only half a dozen kids in the "Shock Waves" group for the 8-12 set. So while the children's program was up and running as promised, some of the specific activities were cancelled because of the small numbers. No scavenger hunt throughout the ship, for example. But our daughter had a very good time in the time she spent there, and enjoyed some of the daytime adult activities too.