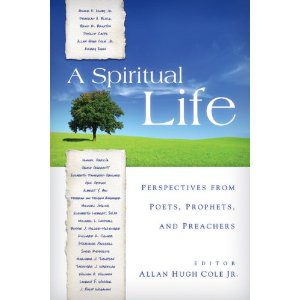 On this, our National Day of Prayer, it seems fitting to kick off our Thursday series for the month of May. Each week, I'll be featuring a short excerpt from Allan Cole's book A Spiritual Life, which is a new anthology of essays from some top writers and thinkers on what "spirituality" means.
I've been a fan of Gail Godwin's introspective, powerful fiction for many years, so I was thrilled to see that she had an essay in the book called "Musings on the Spiritual Life." In this section, she asks how (or whether) writing can be a form of prayer.
Writing as a form of prayer
By Gail Godwin

When you write as much as I do, and when you have been "undertaking God" for as long as I have, there is no way that writing can escape becoming a form of prayer. You get used to struggling with words to sneak up on the unknown. The more you develop and play with your craft, the more things you didn't know you knew find their way into the material. The act of writing faithfully allows answers to slip through.
I didn't realize it at the time, but I see now that my "purple fish" scene in Evensong, in which Margaret and Adrian and Professor Stroup pool their thoughts on an iconic painting of "Cast Your Nets," allowed me to explore in fictional safety, and at several removes (the painting itself and three different characters approaching it from different angles) my emotional longing for that scene in John's gospel to have "really happened." Approaching something from an unexpected angle can suddenly reveal its life to you. Recall those elementary drawing classes in which you were instructed not to draw the chair but to draw the spaces around the chair.
The dreadful tumble of infinity
For me, the worst hour of the non-drinking life is five p.m., or thereabouts. In winter, "thereabouts" can start as early as three in the afternoon, and in high summer it can last until after dark.
Five p.m., or thereabouts, has always meant for me that the day's work is over. The work part of it has not changed. Work always has been my main protection.
But then comes the sunset hour when, with a companion and then later without one, you unstop the bottle or open a new one and let it assist you in parachuting gently to earth. You revel in all you have done during the day, you let go of all that has been left undone, and, sip by sip, you sink gently into oblivion's welcoming container.
But when there is no container to count on at the close of a working day, what then? ….
…. Toward the end of Unfinished Desires, a young teacher and the school infirmarian at Mount St. Gabriel's Academy are reflecting on their vocations as nuns. The infirmarian was formerly a nurse until the day she decided not to turn on the radio while driving to the hospital and "the connection with God was made in that first silence." She has just asked the teacher if she will mind very much if she has to be transferred back to Boston because of suspected heart disease.
"I had known, from the day I put on my ring, that my 'minding' something was going to be beside the point for the rest of my life, and that I had chosen this," the young nun tells the infirmarian. "The practice closest to me now, the practice I find central to everything I do, is living every day and night as fully as I can in consultancy with God. The questions I ask and the insights that come out of the listening – I'm not saying this very well — but the more I live this way, the more I want to – to – pray my life rather than stumble through it."
What would happen if I sat out there on the terrace, under the blanket, totally and soberly conscious, until dark? Would I become one of those who discovers she is praying her life rather than stumbling through it? Or, like the young nun in my novel, would I die that very night?
What would the chances of my survival be? What do I even mean by "survival"? Where is the line between "my survival" and "my eternal life"?
And what difference does it make, the exact hour of my death, if, at that hour, I am living in consultancy with God?
That's the sort of question in which you may at last find some respite, after musing for decades on the spiritual life.