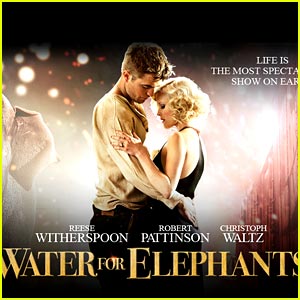 I have a short post up at The Thoughtful Christian this week about my dilemma about whether to see the movie Water for Elephants. I just read the book and was enthralled by it, but am wondering whether the book's richly evocative descriptions and characters could possibly translate to the big screen. (I'm also not that persuaded that Robert Pattinson can act. There, I said it.)
I can count on one hand the movies that I felt were as good as the book (Lord of the Rings) or even better (The Divine Secrets of the Ya-Ya Sisterhood). I don't believe any of the Harry Potter films have lived up to their source material, even though a couple (3 and 6) have used the film medium to add innovative embellishments.
So the jury's still out on whether I will see Water for Elephants. It only has a 60% rating on the Tomameter at Rotten Tomatoes, which is not a good sign. For now I may prefer to see Rosie the Elephant only in my head, her knowing smile fixed in the memory of my own imagination.