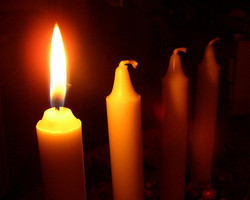 It's Thursday, and I am now finished with my to-do list. The one for this past Monday.
It's probably true that with two jobs and a family and a writing career and a church calling, my life is busier than some people's. I get that. But every year I try to slow down a bit during the holiday season, no matter how crazy things are. Last night I curled up in an armchair to read one of those "guilty pleasure" novels that I am not going to discuss on this blog, because I want you all to think I read Bonhoeffer all day. (As if.)
Over the years I have discovered five reliable ways to reduce the stress of Christmas. These are not rocket science, and some of them come from the classic book Unplug the Christmas Machine, which I recommend to everyone.
1. Map it out. Sit down with the family calendar in November and think about the whole month ahead. Know that there will be more things to do than you can possibly accomplish, more invitations than you can (or want to) accept, more toy drives than you can participate in. Just accept that it's overwhelming, and start to choose. Which things are most important? This year, for example, I decided that one thing that would be really special is to have a girlfriends' night out for some of my friends to celebrate my birthday next week–just a relaxing and fun evening with friends I don't get to see often enough. On the other hand, I've said no to a lot of things. I find that saying no doesn't come easily (perhaps especially to women, who are more socialized to be "people pleasers"), but it's an empowering little word, "no."
2. Spread it out. Over the holidays I try to do about half an hour to an
hour of Christmas-related stuff every day. That may be a quick bout of
cybershopping. (Here's another tip that's not in Unplug the Christmas
Machine, which was published lo these many years ago: do all your
shopping on the computer and never, ever go into a store.) Your half-hour task may be
cleaning, plotting out cookie recipes and grocery lists, whatever. By
spreading the work over many days (and asking for help), it becomes far
less overwhelming. Even fun. And isn't that the point?
3. Stay on budget. Every month, my husband and I put aside a fixed
amount of money that's earmarked for the holidays. When December rolls
around, that's our basic budget for the shopping, wrapping, special
foods, etc. Now, I'm not staying that we stick to it exactly and never
go overbudget — we are not Stepford people — but we know when enough
is enough. According to this article in Forbes, overspending is a huge problem at Christmas. Last week's Newsweek says that it may be even worse this year than usual because people who felt deprived during the 2008-09 recession feel entitled to luxuries they have deferred.
4. Forget perfection. Perfection is stupid. It's silly to chase a dream of domestic bliss based on some magazine's ideal of the perfect gingerbread house (which has an elevator, BTW, because as you've probably noticed, its resident gingerpersons don't look very hale and hearty). At Christmastime we have to accept the fact that we have limited time and limited budgets. This week I am baking lots of Christmas cookies, and I'm not fussed about taking them from good to great. They'll be fine for hanging out with friends and family.
5. Focus on Advent and spiritual preparation. For various reasons, most of them commercial, it's harder than it should be
to remember that "Jesus is the reason for the season," as the bumper
sticker slogan goes. I try to be proactive about seeking this out. This
year, I'm preparing for the coming of Jesus with an Advent devotional of
Dietrich Bonhoeffer's writings (see, I do read Bonhoeffer, just in
small doses). As a family we light Advent candles at dinnertime, which is a beautiful reminder of waiting and preparation.
Christmas is about giving. Let's make room for it.