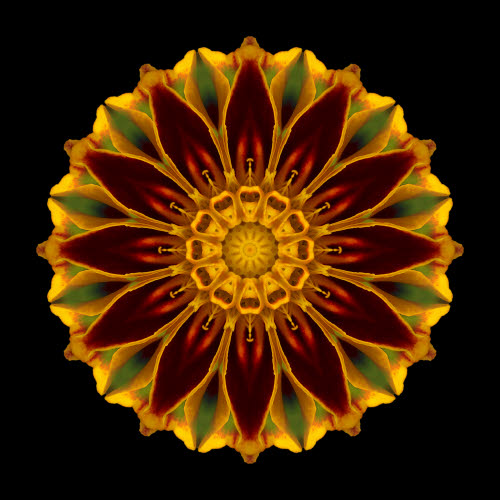 Marigold V flower mandala
The Wikipedia defines a flywheel as "a rotating disc used as a storage device for kinetic energy." Flywheels are primarily used to maintain steady movement when the power that rotates them fluctuates, as in a potter's wheel or a piston-based engine.
Vehicles need flywheels in order to keep their engines from moving in a jerky fashion. Potter's wheels need flywheels to ensure that the rotation of the wheel remains constant. And most of us need flywheels for basically the same reason — to even out the vibration, to keep the forward motion constant.

A lot of what I do as a therapist is to help people to find their flywheels.
By "to find their flywheels," I mean to discover an interest or passion that they do just for themselves, something that is not part of a job, a chore, or that they do for friends or family, or that is dependent on time or season. A personal flywheel is something that, when you apply even intermittent energy to it, keeps on going in a steady sort of way. When other aspects of your life take a hit, the flywheel keeps the engine turning.
A personal flywheel can be almost anything you feel passionate about and connected to. For some people, it is a spiritual connection and the activities associated with it, whether they be participating in a religious community or in their own private rituals and observations. For others, it is a physical activity — working out, doing yoga, playing a sport not for the sake of competing, but for its own sake. Outdoor activities like gardening, hiking, boating, or fishing also may fill that role.
For many, artistic activities are their flywheels. In my own case, writing and photography have been flywheels for much of my adult life. These activities are things my attention goes to whenever there is nothing else pressing, as if in the back of my mind a miniaturized, but very heavy, potter's wheel is spinning, spinning, and all I have to do is give it a little kick to keep up the momentum. When other areas of my life flag — health, relationships, work, and so on — I tend to pour a little more energy into my creative endeavors, as the energy of the flywheel needs to keep the rest of the engine going for a while. If I'm busy with other things, I may not be able to put as much into my flywheel activities, but the momentum from past efforts keeps it moving over these rough spots, until I get a chance to give it another kick.
What's your personal flywheel?
More anon,
– David
Discussion:
What's Your Personal Flywheel?
Art, Healing, and Transformation group
Flower Mandalas Project group
© 2008, David J. Bookbinder