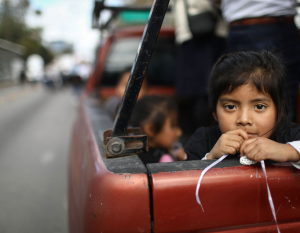 In this Child is you. He desires to go home so deeply, so unceasingly, His voice cries unto you to let Him rest a while. He does not ask for more than just a few instants of respite; just an interval in which He can return to breathe again the holy air that fills His Father's house. You are His home as well. He will return. But give Him just a little time to be Himself, within the peace that is His home, resting in silence and in peace and love.
This Child needs your protection. He is far from home. He is so little that He seems so easily shut out, His tiny voice so readily obscured, His call for help almost unheard amid the grating sounds and harsh and rasping noises of the world. Yet does He know that in you still abides His sure protection. You will fail Him not. He will go home, and you along with Him.
This Child is your defenselessness; your strength. He trusts in you. He came because He knew you would not fail. He whispers of His home unceasingly to you. For He would bring you back with Him, that He Himself might stay, and not return again where He does not belong, and where He lives an outcast in a world of alien thoughts. His patience has no limits. He will wait until you hear His gentle Voice within you, calling you to let Him go in peace, along with you, to where He is at home and you with Him.
When you are still an instant, when the world recedes from you, when valueless ideas cease to have value in your restless mind.
Return him home with your love.
Return the grace of him home
Allow the judgement to fall away
Allow forgiveness to flow
Allow the truth to return to love.
Excerpted from ACIM
Check in with yourself as you find the loving actions your soul desires you make.
Love, Mel
Mel Lutz is a writer living in Los Angeles, CA.
Stay connected on:
Twitter
Instagram