Here's the latest from the crossroads of faith, media & culture: 01/28/22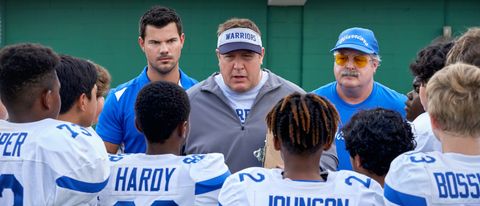 (Image: © Netflix)
Kevin James tackles a true story. In the family comedy Home Team (dropping today 1/28) on Netflix, King of Queens star plays Sean Payton, the real-life former (and possibly future) NFL head coach who, two years after helping lead New Orleans Saints franchise to its first Super Bowl victory in 2010, was suspended for the entire 2012 season for his role in the infamous Bountygate scandal in which members of the team were allegedly paid bonuses for the unsaintly act of deliberately injuring players on opposing teams. The movie tells the redemptive story of how the scandal (a bad thing) became a blessing that helped the divorced Payton reconnect with his 12-year-old son as he ended up using the unwanted time off to coach his struggling ragtag Pop Warner football team.
As Kevin James said in our recent conversation, "The message in this movie is that when something in life happens that really kind of closes a door on you, you need to really search and take a moment because there is an opportunity. Opportunities are always given to turn things around in (some) way. They may not be so obvious all the time but this one, like I said, turned out to be the greatest season of coaching in his life. That's pretty cool for a Super Bowl-winning coach. So, it's about, you know, taking those down moments and turning them around. How they judge a champion is by how he reacts when he gets knocked down."
All that is true – and it certainly describes what works about the movie. Ultimately, however, Home Team is an uneven film that, though based on a true story, sometimes strains credibility – notably in a scene when, due to a bout of food poisoning, the entire Warriors team (Payton's team) starts vomiting uncontrollably on their opponents near the end of an important game and the game is somehow allowed to proceed. I don't know if that actually happened but it seems unlikely. If it didn't happen, it certainly wasn't worth making up.
On the plus side, Kevin James brings humor, gruff warmth and credibility to his role as Sean Payton. He deftly handles the dramatic scenes with his son. Those are among the best portions of the film and make it clear that he's fully capable of handling more dramatic material than his most famous roles Doug Heffernan and Paul Blart might suggest.
Also Isaiah Mustafa is impressively intimidating as the opposing coach who is out to prove he's got the stuff by defeating the legendary, if scandal-scarred, Super Bowl champion. On the other end of the personality scale, Taylor Lautner is extremely likable at as the compassionate Warriors coach Payton works with.
In any event, James, who has been developing a good creative relationship with Netflix, is definitely an asset to the streamer which I understand is in the midst of developing a new series for him. As I mentioned in Wednesday's post, I'm a fan and have always imagined him in a light Rockford Files-esque private eye series. Just a thought.
The Bottom Line: Overall, though the script could definitely have used some tightening, the cast (led by James) pulls it out to score a modest victory in the end.
Encourage one another and build each other up –
1 Thessalonians 5:11