Here's today's dispatch from the crossroads of faith, media and culture.
Nothing quite compares to a well-written letter. Or script for that matter. And Martha Williamson (Touched by an Angel) certainly has written a charmer with Saturday night's Signed, Sealed Delivered, her Hallmark Channel backdoor pilot about a pleasantly quirky team of postal investigators assigned the somewhat dated task of connecting lost — or so-called "dead" — letters to their intended recipients.
It's that word "pleasant" that makes the show seem ironically subversive in this era of dark and cynical television.  Oliver, the leader of the team winningly played by Eric Mabius (Ugly Betty) belies the idea (too often taken as a truism in Hollywood) that only snarky, cynical heroes can be interesting. The dignified and quietly compassionate Oliver is the polar opposite of both adjectives yet he's as interesting as hell heaven.  Somehow simultaneously suave and what some would consider nerdy, he is a man of deep integrity who carries within himself a deep wound from his past. But where recent TV protagonists (i.e. House) have channeled their inner hurt through sharp-edged putdowns and general amoral unpleasantness, Oliver deals with his pain by throwing himself into his work and struggling to do the right thing. He's all about following rules — like never reading more of a letter than is absolutely necessary to ascertain its proper destination — but it's clear as an envelope window that he cares about the people involved.  The bottom line is you can't help but like the guy.
We first meet Oliver when he first meets Shane (Kristin Booth), the newest member of his team (though he doesn't know that in their first encounter). Besides being cute as hell heaven, she is his polar opposite in terms of impulsiveness and a willingness to bend rules when she sees them as being in the way of a greater good. Their yin-yang teamwork is at the (big) heart of the drama.
Backing them up are Rita (Crystal Lowe) and Norman (Geoff Gustafson) who provide sweet comic relief as loyal and awkwardly shy team members who clearly yearn for each other — but lack the social confidence to tell one another. Then there's Daphne Zuniga (Melrose Place) as Andrea, the officious postal official who — for no particular reason — has it in for the Dead Letter Office.
The pilot opener concerns a young woman (Laci J. Mailey of Falling Skies) whose farewell lover letter that unexpectedly connects to a murder case that has ensnared the poor sap (Benjamin Hollingsworth) to whom she wrote it. We get to know the couple through flashbacks as the team's investigation slowly requires more paragraphs of the wayward correspondence to be revealed. It's a clever device that really works. I could reveal more but it would be like reading too far ahead in a dead letter.
What I can tell you is that you'll find yourself rooting for both the sender and recipient — and for the Dead Letter crew. I can also tell you that I found myself laughing out loud at dialogue that managed to be genuinely witty without being cutting or crass. Yes, TV writers, it can be done.
Finally, I can tell you that there's a happy ending. As a result of exceptionally-strong audience testing, Signed, Sealed, Delivered has already been picked up as a series.
Here's hoping both the pilot of the ongoing show finds the kind of ratings that will send a clear and unmistakable message to others networks. Better late than never.
To sum up, Signed, Sealed, Delivered gets my stamp of approval. Highly recommended.
Signed, Sealed, Delivered pilot airs this Saturday night (10/12) at 9:00 PM ET. The series is set to launch in second quarter of 2014 with 10 one-hour episodes. Check out the promo below: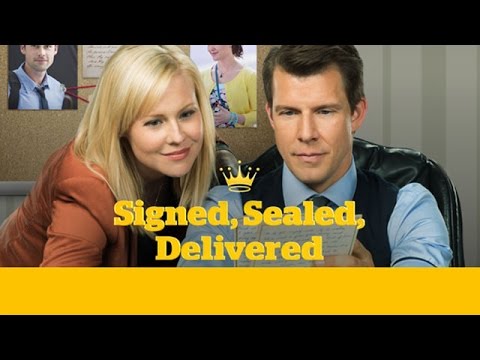 Encourage one another and build each other up – 1 Thessalonians 5:11