The following numbers frighten more than horror movies: Helpguide.org reports that "Roughly 50 percent of individuals with severe mental disorders are affected by substance abuse. [And] 37 percent of alcohol abusers and 53 percent of drug abusers also have at least one serious mental illness. Of all people diagnosed as mentally ill, 29 percent abuse either alcohol or drugs."
We can take a deep breath, however, and set aside the horror for a moment. Make popcorn if you'd like, before giving attention to a few movies and documentaries that motivate healing and show grassroots successes for the mental and drug crises.
The 2016 film, A Street Cat Named Bob, directed by Roger Spottiswoode tells how recovering drug addict, James Bowen, also diagnosed with mental issues, transformed  his life after meeting a stray cat he named Bob.
The flick is based on a book with the same title, written by Bowen and Garry Jenkins. It shows the power of accepting grace, rather than disgrace. It shows the power of peers on the road of recovery. Bowen not only got a grip on his own problems but went on to help others.
The trait of grace improves thinking and therefore actions. As read from my book, from science & religion to God, "You can become conscious right now of the wellbeing and intelligence that is purely divine. You've been given authority—not to manage sin, sickness, or other people—but to experience the consciousness of intelligence, wellbeing, Truth and Love."
Grace perseveres; never gives up. The element of grace observes and discovers.
The National Institute on Drug Abuse reports, "Discoveries in science lead to breakthroughs in drug use treatment." Use is the key word here. How do we use the resources we have?
Do we use resources for selfish reasons? Do we use them to hide problems rather than solve problems? Do we use resources to stigmatize others?
Or, do we use resources to help one another holistically?
A documentary titled Crazy, produced by Lise Zumwalt and co-produced by Tony Breuer, credits the healing resource of holistic care.
Crazy follows Eric, a young adult diagnosed with serious mental illness. Experts identified Eric as a danger to himself. Therefore, Eric complied with forced psych meds for eight years and at the same time faced serious setbacks and fogginess which in turn ricocheted chaos in his life and those around him.
Eric and his dad fought through legal channels, to work with holistic specialists and develop a treatment plan that reduced significantly the intake of meds. Eric went on to graduate from college. He now lives with dignity and advocates for others recovering.
Eric's story needs public retelling, mainly to strengthen the impact of peer support. As of early 2018, the producer of Crazy is seeking a Documentary Distributor for the film.
In upstate New York, Kate Hewlett watched a private showing of Crazy, hosted by Peer Alliance League, Inc., in 2017.
"I really appreciated the fairness of the documentary.  I didn't get angry, as I thought the movie showed all sides. It's very fair," said Hewlett, who herself is not only traveling the road to recovery but is also clearing the path of obstacles for others.
The path isn't always easy, and Hewlett looks to other recoverers for inspiration.
In 1999, Hewlett was diagnosed with Paranoid Schizophrenia. She turned twenty-two-years old while in the hospital. How did it make her feel?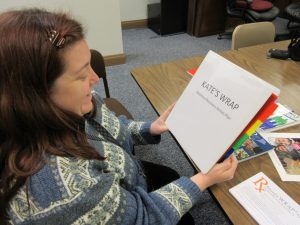 "Alone, angry, scared, confused, hopeless, and worthless," she answered.
Hewlett questioned her identity and purpose and life's path. She said, "The diagnosis sucked, and I was so embarrassed. It wasn't really the dumb label, it's all the garbage that goes along with it."
Sometimes, there's so much garbage, the brain shuts down and tries to give up, or make others give up.
Hewlett remembers "the doctor telling me that I'd never do the things that normal people would do; live independently, work full time, be in a long-term relationship, drive my car, finish college, and never live in society under normative expectations." But, she didn't give up. She didn't comply with the verdict.
Hewlett treats herself with grace and self-worth. She perseveres, because she still hears voices and experiences paranoia. But, she looks for and accepts the intangible support of compassion.
Hewlett explained, "My mother and my grandparents and my brother were amazing even though they had no clue what mental health was all about. At that time, it was brand new to all of us, so we were all learning together. My family would visit me during my many hospitalizations." She also valued a case manager and a psychiatrist, both of whom treated her as a person, rather than a disgrace.
Because medications made Hewlett very drowsy and foggy, she strove to become her own advocate. She learned about the diagnosis and how to reduce medications significantly.
Hewlett also discovered the Wellness Recovery Action Plan, or WRAP® and today follows her Wellness Tools, practices meditation and mindfulness, eats healthy, exercises, avoids certain foods and substances, follows a sleep schedule, drives her car, has a baking business, and is married.
She began volunteering in 2013, to facilitate a Wellness Self-Management group. Hewlett speaks publicly and holds workshops as an advocate for recovery. And, before being hired full-time in 2015 at the Otsego County Behavioral Health Services, Adult Clinic, she worked part-time. She recently earned her certificate as a WRAP facilitator.
"I don't get angry at the system, I do my best to change it," said Hewlett. "But, please know, my life isn't perfect. I have the same struggles as everyone else, it's how I choose to handle them, that makes all the difference."
Hewlett's story would make a great movie.
Since the 1990s, when mental illness and drug abuse surfaced as a blight on humanity, creaky mental doors are opening to discovery and grace. The sufferers themselves have come up with solutions above and beyond conventional health care.
Although admitting more research is necessary, Dr. Dan G. Blazer wrote in the Canadian Journal of Psychiatry, "[M]ost investigators now recognize that the supportive aspects of faith communities are key in promoting mental health (at least as much as individual spirituality)."
Does divine intelligence and grace make the difference on the road of recovery?
Bio: Cheryl Petersen's books are, I Am My Father-Mother's Daughter, and 21st Century Science and Health with Key to the Scriptures: A revision of Mary Baker Eddy's Science and Health. Cheryl is also Beliefnet columnist Everyday Spirituality.