A government study found that more than half of American adults take at least one dietary supplement, spending billions of dollars a year on herbs, vitamins, minerals, hormones, and other pills. Despite the popularity, skepticism remains as to the effect of supplements. Dr. Darwin Deen, clinical professor in the department of family and social medicine at Albert Einstein College of Medicine in New York said, "Our diet contains too many processed foods that do not have the nutrients we need to keep us health." Taking supplements is not the answer. Deen usually advises his patients to increase their intake of fruits and vegetables rather than take a pill.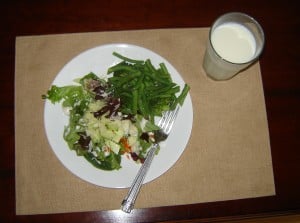 Taking supplements while eating chips and drinking soda is delusional. We read in the book, 21st Century Science and Health, "Human beings assume that they can live without goodness, when God is good and the only real Life. What is the result? Understanding little about the divine Principle which saves and heals, human beings get rid of sin, sickness, and death only in imagination."
But what if we don't eat junk food, but always eat fruits and vegetables and yet still feel as though we need supplements?
Consider taking spiritual supplements.
Feeding the soul not only balances the system but also disengages the mind from being obsessed with food and skepticism. Again from 21st Century Science and Health, we can gain "the true understanding of God in the Science which destroys human delusions and reveals the grand realities of Spirit's allness." We can take in the paradigm of a healthy whole Spirit and spirituality and feel its good effects.