Zen Kitty here,
Living in upstate New York, in a quiet home, in the woods, gives me the opportunity to explore and reflect. Not to say I didn't explore and reflect the first six weeks of my life when I lived in the one hundred year old barn with my multitude of aunts, uncles, brothers, sisters, and cousins (yes, I am a pure-bred barn cat). A contemplative wonder has always had a grip on me. That is probably why Cheryl singled me out a couple of years ago and brought me to her house.
It is okay to be singled-out sometimes and I've obviously been singled-out again as a guest writer for Everyday Spirituality, however, I wager that there are many cats and dogs and horses, and so on, who are somehow connected to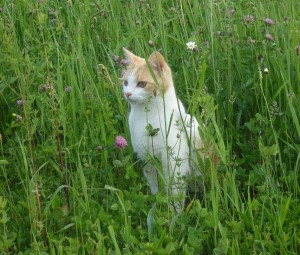 Beliefnet, who understand where I am coming from and where I am going. Love and Life.
So, all you 4 legged friends, please leave a comment (with a link to your picture) and let me know what you're finding in your exploration and reflection.
Our cat species may not have the human capability to invent things, but we aren't very complicated. While human beings invent words (and I've noticed some people use those words excessively while not saying a darn thing), cats are minimalists. One word, Meow, generally gets an idea across just fine.
Meow. It is time to go watch flowers bloom.