If I thought college was an eye-opener, being married was an eye-bugger outer. What on earth made me think I was ready to get married? Group think? TV fantasies about being married? Anyway, I was a married woman in 1983 and the first year completely stunk (Doug was older, ready to be married, and had the wits to be very patient with me). Providentially, I could dimly see that divorce generally did not suit society well, therefore, I reluctantly chose to turn the tumult into tranquility and this required spiritual growth. It took years, but I eventually found a peace. No human situation is ideal. It was the spiritual engagement that proved to be the only source of peace, so I continued my search for spirituality while we lived on a hill and farmed with the Petersen family (Doug has 2 brothers and a dad who all farmed together).
I attended Christian Science Class Instruction, taught by a respected Teacher of Christian Science in the year 1984. At this time, I also thoroughly analyzed the rumors surrounding Christian Science, such as the popular buzz that Christian Scientists don't go to doctors. Fact is, Christian Science is a study, not a set of do's and don'ts. This fact was broadened to include all religions and I learned not to judge a religion by a person, or a person by their religion.
Doug and I attended a non-denominational church in Kennewick, along with, First Church of Christ, Scientist, Pasco. The church services in and of themselves weren't fabulous but church offers the opportunity to build relationships and share ideas.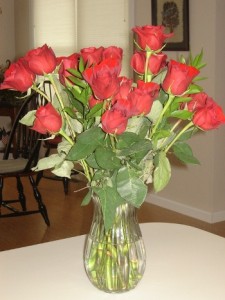 I studied Mary Baker Eddy's writings, especially Science and Health with Key to the Scriptures, and found the principles discussed in the book to be useful, so I decided to join First Church of Christ, Scientist, in Pasco. I read the church's By-laws and signed an application that basically agreed I was a high moral citizen who was committed to not smoke, drink, or be using medications, in other words, on the verge of ascending. This stipulation wasn't humorous at the time, or even noticed as strange, it just so happen that smoking and drinking never appealed to me, and I didn't need medications, so signing the application along with its stipulation didn't appear constrictive or ridiculous. But, the church routine helped ground me spiritually.
Doug and I then had 2 children and made the bold decision to farm on our own, so we moved to Kennewick, Washington, to an orchard and, shock of shocks, we lost the entire first year's crop to weather damage. I struggled and struggled, emotionally and metaphysically and in prayer. Finally (it took almost a year), I saw how rich we were in family love, so in order to put to use the good I do have, we applied to become licensed foster parents.
We fostered children on and off for 15 years.