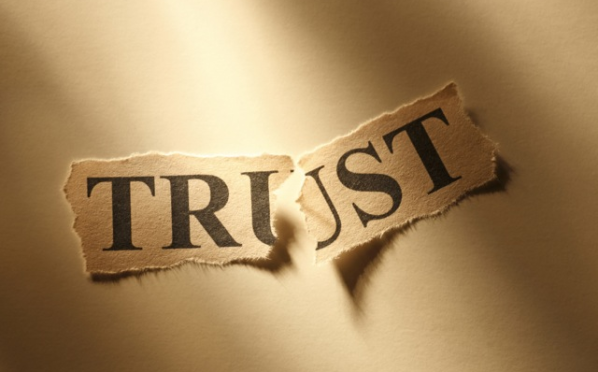 Why do relationships begin so amazingly well, full of hope, excitement and love, but often end up shattered like a glass pane dropped from atop a 10-story building?
When one half of a relationship suddenly destroys the other's trust in them by betraying a confidence, cheating with someone else, stealing from the other or simply abandoning the relationship with no explanation or warning, the intense feelings of rejection and disbelief can be overwhelming and sometimes debilitating.
Although it seems hard to accept, especially to those who have had their trust in someone special damaged by acts of betrayal, trust can be restored with time, patience, keeping communication lines open and a lot of self-introspection.
Restoring trust also requires:
1. Remaining honest about your feelings. The old saying that "confession is good for the soul" may not have come from a therapist but it remains relevant when trying to restore trust. Also realize that while confessing true feelings might cause the end of a relationship, blunt honesty can effectively put an end to something unhealthy, unproductive and toxic to a person's mental and emotional well-being.
2. Don't wait to "talk" about broken trust out of fear and anxiety of what may happen. The sooner a meaningful discussion begins, the better chance trust can be restored. Start by talking about motivation, empathy, agendas and why trust is such an important issue in any relationship..
3. The person whose trust in another was damaged will need to learn to forgive. This is the hardest part about restoring trust in a relationship and requires long moments of introspection, embracing self-esteem and understanding that having an unforgiving attitude may sabotage the other's chance at restoring trust.
4. Start with small steps rather than grand gestures. Small yet significant gestures will do more to restore trust than acting superficially in an attempt to shove the immediate past into a dark, unspoken corner.
5. Keeping promises, no matter how little or big, is paramount to restoring trust when it has been broken. Anyone involved in a relationship suffering from trust issues needs to understand that promises are not just verbal tools used to gloss over a difficult moment or enhance special times but are genuine commitments that help create an indelible and satisfying relationship that does not suffer from dishonesty, resentment or trust issues.
About Alex Blackwell
Alex Blackwell is a father, husband and writer.