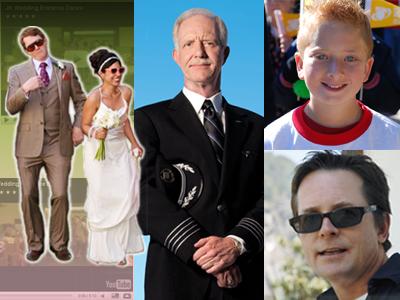 Beliefnet's got a wonderful feature this month, called Most Inspiring Person of 2009 – also known as MIPY for short. I don't know about you, but lately, I could use some inspiration. Right now, they're calling for votes on the top nominees, so please take a moment to browse through the candidates and vote for yourself. Meanwhile, Paddy and I thought we'd share a few of our own thoughts on inspiration, and how those we look up to as role models spur us on to be more ethical people.
Hillary: Well, last November I'd have said Barack Obama was my MIPY. Election night was electrifying and I haven't felt so hopeful and inspired to feel optimistic about my country in a long time – if ever. Sadly, I haven't felt the same sense of 'better days' at hand in the months since. Politics, and politicians, can be a bit of a letdown. Of course, there was the airline pilot CaptainChesley Sullenberger – now there's a man with grit! – but I'm not sure I found him so much 'inspiring' as admirable. After all, he's not inspiring me to take flying lessons, so there's not really a personal sense of connection for me. I guess maybe I'd vote for NYTimes columnist Nicholas Kristof, not so much for this year, as for his ongoing crusade to bring the stories of women's suffering and the horrors of war in Darfur to the public's attention, among other worthy causes. For me, I know no one else who's raised my awareness and inspired me to become more generous and involved as much as he has. Paddy, what are your MIPY thoughts?
Paddy: Well, this has indeed been a difficult year for too many, a year in which inspiration may have been even harder to find than usual. Such a year makes it even more important to think back and try to find that little pockets of hope that will spur us on and inspire us in the coming year.
I suppose I would both have to agree and disagree with Hillary that President Obama would be one of my nominees for Most Inspirational Person of the Year. I so clearly remember the feeling of absolute joy and hope last November; for the first time in my life I found that a politician could indeed bring me to tears. And not because I expected him to be perfect (surely he has already proven that he too has flaws). Rather, because his message of hope was meant for us all — the world together. Taking this overwhelming ideal down to the nitty gritty isn't going to be done in a year, so I must confess my impatience with those who have lost that joy and hope from last November. Sustainable change doesn't happen in six months, or a year. And if there is one thing President Obama has reminded me of, it is the rewards of perseverance.
On a non-political level, there are several people I've admired for their service and dedication, such as the heroes of Fort Hood or dear Captain Sully. But I think I take the most inspiration from people I've encountered personally. When I was brainstorming for this post, a few people came to mind. I thought of my coworkers during my all-too-brief time in Thailand. Many of these people at the Human Rights Documentation Unit have spent years dedicating their time, energy, education ensure that the blatant human rights injustices in Burma be reported, recorded and brought to the world's attention. They would never expect to be a source of inspiration, and that's why they are.
Who was your inspiration this year, or every year? Please share your thoughts below!
Subscribe to receive updates from Everyday Ethics or follow us on Twitter!