You may have heard about the Jesus Prayer,
Lord Jesus Christ, Son of God, have mercy on me, a sinner.
I hope you use it in your daily prayer or meditations. I do. i've experienced many positive changes in my life: peace, patience, reassurance that God is always with me.
You may have heard that I wrote a book and made a movie about it, "Mysteries of the Jesus Prayer."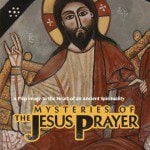 You might be chosen to win a copy of the book, movie, and/or a CD, just by completing a survey, and forwarding the survey to a friend.
Please click the link below to take the survey and be entered to win. No purchase necessary. No eligibility requirements. Winners picked at random on or before September 30, 2011.
Don't forget to forward the survey to a friend, too.
Good Luck!
TAKE THE SURVEY — FORWARD IT TO A FRIEND — YOU MIGHT WIN A COPY OF "MYSTERIES OF THE JESUS PRAYER."
http://www.surveymonkey.com/s/MPHPLL3