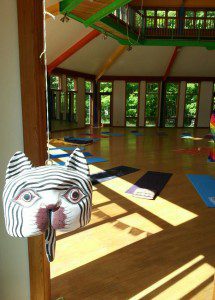 How do you become an active dreamer? Let's start with baby steps.
Many of us in the contemporary world have been suffering a prolonged dream drought. You want to end the drought and renew your connection with your dreams. So you set a juicy intention for the night – "I want to have fun in my dreams and remember" or "I open myself to healing" – and make sure you are ready to record something whenever you wake. Be kind to fragments. Even a wisp from a dream, a sense of color, a snatch of a song, can be a great beginning.
Recognize that you don't need to go to sleep in order to dream. Through the play of synchronicity and pop-up symbols, the world around you will speak to you in the manner of dreams if you pay attention. And there are treasures in in-between states of consciousness, especially in the hypnagogic zone, "the Place Between Sleep and Awake" as Tinker Bell calls it in the Disney version of Peter Pan.
To get active with your dreams, you need to keep a journal and you need to develop the practice of sharing your dreams with others in the right way, and of taking action to bring energy and guidance from the dream world into everyday life. I have invented a powerful technique for dream sharing that we call Lightning Dreamwork. It's quick, it's safe and it's fun. It provides a way for us to hear each other's stories, provided helpful feedback and guide each other to take action to honor our dreams. We can learn to do it in minutes with a complete stranger or the intimate stranger who shares our bed and may be the hardest person to talk to about sensitive things. The process is explained in my books The Three "Only" Things and Active Dreaming.
We want to develop the practice of conscious or lucid dreaming. The easiest way to become a lucid dreamer is to start our conscious and stay that way. I teach people to travel, wide awake and conscious, through the doorway of a remembered dream to explore the dreamscape more fully, resolve terrors, solve mysteries and foillow roads of adventure in the multiverse. Dream reentry, as I call this, is another of the core techniques of Active Dreaming, my original synthesis of shamanism and dreamwork. In the workshops, we use shamanic drumming to fuel and focus the journeys, and we learn that dreaming does not have to be a solitary activity. We can travel with one or more partners and our shared experiences become first-hand data on the reality of other dimensions.
Dreaming is a discipline. It's fun and you get to do a lot of the work in your sleep but to get good at it – as with anything else – requires practice, practice.
photo (c) Robert Moss