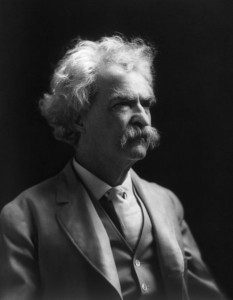 In one of his later stories, "My Platonic Sweetheart", Mark Twain wrote, "In our dreams — I know it! — we do make the journeys we seem to make, we do see the things we seem to see."
He also described a practice for "drilling" the memory in order to catch more dreams and use them to discover the nature of the personality and of reality itself. "Few drill the dream-memory, and no memory can be kept strong without them." The drill involves writing down dreams when they are fresh, then studying them and revisiting them and trying to figure out "what the source of dreams is, and which of the two or three separate persons inhabiting us is their architect."
 Mark Twain's experience was that in dreams we can find ourselves in parallel worlds where we lead a continuous life, usually forgotten after waking. In these parallel lives, we may be following a path from which we departed in ordinary life. We may find ourselves living with a lost love.
As a cub pilot, Sam Clemens (as he then was) was smitten by a lovely fourteen-year-old girl in braids called Laura Wright. He spent two days hours as close to her as he could get, then they were forced to separate and embarked on separate lives. Mark Twain's notebook entries suggest that he dreamed of Laura, and a parallel life in which they were united, over most of his life.
He wrote enigmatically, in a letter in 1893: "I dreamed I was born, and grew up, and was a pilot on the Mississippi and a miner and journalist and had a wife and children — and this dream goes on and on and on, and sometimes seems so real that I almost believe that it is real. I wonder if it is?"  He wished to be able to migrate to a parallel world where he could be with loved ones from whom he was cruelly separated.
Adapted from The Secret History of Dreaming by Robert Moss. Published by New World Library. All rights reserved.
Photo: Taken in 1909 by A.F.Bradley. Public domain.