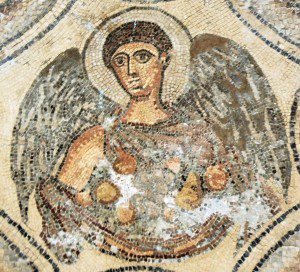 We have direct access to sacred knowledge, in our dreams. Our dreams are a personal oracle that reveals the future and helps us prepare for it. We must not let anyone tell us what our dreams mean or stand between us and the direct experience of the sacred that is available in dreaming. We want to pay attention to signs from the world around us in the knowledge that everything in the universe is interconnected and constantly interweaving. We need to journal both our dreams and our waking experiences in our Books of Night and Day.
These insights come from a fifth-century bishop of Ptolemais (in what is now Libya), Synesius of Cyrene. His treatise On Dreams is one of the wisest books ever written on how to work with dreams and synchronicity. He wrote that "Dream divination is available to all, the good genius to everyone" and that is no wonder that dreams show us the future, because dreams are experiences of soul and "the soul holds the forms of things that come into being".
Synesius used dreams for practical navigation; he describes how dreams alerted him to plots by his enemies, counseled him on his literary style and (as a young man) on the hunt, and helped him win the ear of a Roman emperor with the right oration. He also observed, correctly, that the energy derived from dreams can be more valuable than their content; through dreams God "makes us fruitful with his own courage."
"It is written, 'Others even in their dreams He made fruitful with his courage.' Do you see? One man learns while awake, another while asleep. But in the waking state man is the teacher, while it is God who makes the dreamer fruitful with His own courage, so that learning and attaining are one and the same. Now to make fruitful is even more than to teach."
He despised dream dictionaries, as popular in his time as in ours: "I laugh at all those books and think them of little use." He strongly counseled that we must not assign the interpretation of dreams to "experts" other than the dreamer: "It would be shameful for those who have lived ten years beyond adolescence to stand in need of any other diviner."
He wrote of how dreams carry us into higher worlds, and put us in direct contact with the God we can talk to. He hinted that the road of dreams is the road of the soul, on both sides of death, noting that "the soul's way of life in another world is similar to the imaginings of the dream condition."
The wisest of humans are those who navigate life by reading the sign language of the world. We should keep a "day book" for our observations of signs and synchronicities as well as a "night book" for dreams.
"All things are signs appearing through all things…they are brothers in a single living creature, the cosmos…they are written in characters of every kind".
The deepest scholarship lies in reading the sign language of the world; the true sage is a person "who understands the relationship of the parts of the universe".
We can learn from Synesius how to practice dreamwork as real church, and track coincidence as "God's way of remaining anonymous". He deserves to be much better remembered, as a great dream teacher from the world of the early Church, one who spoke eloquently against those who seek to stand between people and the direct experience of the sacred. He wrote about dreams not on the authority of his excellent education (he studied under Hypatia in Alexandria), nor his contacts with the great, nor any high office that he held. Synesius speaks to us across the centuries with the authority of experience, understanding – as do all true dreamers – that the best guides to dreaming are frequent flyers who do a lot of it.