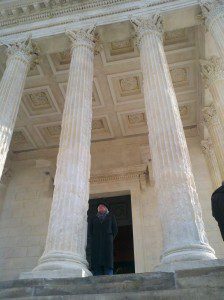 Dreaming, we are released from the limitations of the body and of spacetime. We fold time and travel into the future (and into the past and parallel dimensions).
I became fascinated by this subject because I have been dreaming about future events, large and small, before they happened since my early childhood in Australia. Here are a few examples:
Dream 1: I check into a hotel where they tell me the credit card I use to pay my bill will be my room key.
Follow-up: Three months later, I make last-minute arrangements to stay at a New York hotel. They explain they have a new system; the credit card I will use to pay my bill will be my room key.
Dream 2: 68 people have signed up for one of my workshops.
Follow-up: Thirteen months later, I arrive at a rural retreat to lead a workshop (not even conceived at the time of the dream) and find 68 people are signed up. The rest of my quite complex dream report gave me very helpful guidance in handling things over the weekend.
Dream 3: A silly little dog decked out in fake antlers for a Christmas event runs out on the road and is killed. He is magically revived by a bizarre character who doesn't conform to any normal standards of behavior.
Follow-up: The next day, having missed a connection, I am seated on the "wrong" plane for the second leg of a flight to the West Coast. At the start of the in-flight movie, a silly little dog decked out in fake antlers for a Christmas photo shoot is killed on the road, and magically revived by a bizarre character: the Archangel Michael as portrayed by John Travolta.
If we can dream something as trivial as the in-flight movie on the wrong plane, or the key card system a a hotel, it seems safe to assume we dream about the big stuff ahead if time too. And indeed we do.
How common is the experience of dreaming the future? I think it goes on all the time, because our dream self is forever traveling ahead of us, scouting the roads we have not yet taken in physical life. Even the most prolific dream recaller can handle only a limited number of the "memories of the future" with which the traveling dream self returns to the body. And it may be difficult to figure out what exactly is going on in a future situation until waking events catch up with the dream.
If you have ever had the sense of déjà vu, you are already deep inside this territory. That feeling of déjà vu ("already seen") generally comes when you enter a scene in waking life that you have already dreamed. You may have lost the dream, but you recognize a place or a person you encountered when you were dreaming.
In modern Western societies – unlike traditional dreaming cultures, like those of Aborigines, Native Americans or ancient Celts – few of us are given much encouragement or coaching to grow the skills of dreaming true. Many of us are quite unaware that we dream the future (maybe all the time) until a specific dream jolts us awake.
The first time many of us notice that we been to the future in a dream is when we are shocked by a dream of death or disaster that subsequently takes place in physical reality. A radio show host told me he was terrified, as a teenager, by a dream in which he looked down on his mother, apparently dead inside a coffin. A week later, he saw the scene tragically enacted in waking life when the family was out tobogganing in the Rocky Mountains. His mother's sled shot off over a precipice and – when he got to the foot of the slope – the dreamer found himself looking down at her as she lay, with her back broken, inside the coffin-like box .
Dreams of this kind can seem like a curse, when we feel unable to do anything to change an unhappy outcome we have dreamed. But if we pay attention to our dreams, we'll soon notice that our dreams of the future don't only involve death and disaster. Our dream radar scans events large and small, happy and sad, which are coming into our field of experience.
Some indigenous peoples maintain that we dream everything that will manifest in physical life before it happens. I think this is correct.
Let's be constantly aware that the futures we see in dreams (or through waking intuition) are possible futures, not inevitabilities. We can change the odds on the manifestation of any possible future by how we act, or fail to act, on the information. The future we can foresee may also be changed. If we don't know where we are going, we are liable to end up where we are headed. The travels of the dream self enable us to take a long clear look down the roads of life, and make better choices.
At the Maison Carrée, the Roman temple in Nîmes. My dream self routinely visits foreign countries before I go to them – and doesn't have to pay for a plane ticket or wait for his bags.