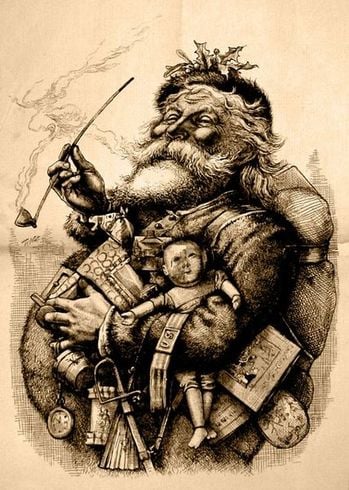 In this holiday season, I received this cri de coeur from the mother of a young boy named James:
James found out that his parents stuff his stockings each year instead of Santa Claus. He is crestfallen. I asked him if he remembered a story you told him about a real live, animal-loving "Santa" that lived long ago, and he did, but neither of us could conjure enough details to make a suitable retelling. Could you please give me a reference to find the story of this previous, real-life "Santa"? It just might save Christmas for a certain young boy who yearns to believe.
I remembered a conversation in which I suggested that the original Santa was a shaman of the Sami, a reindeer-herding people of Lapland, reputed to have the power to call up the winds and fly through the air, and that the reason his coat is red is that it was the flayed skin of a reindeer. I have seen Sami drums with images of a shaman flying through the three tiers of the shamanic cosmos on a sleigh pulled by reindeer. But while there is a rich ethnography on Sami shamanism, I could think of no source that would be suitable for a young boy. So I took on the assignment of writing my own version of the first Santa, addressed to a boy in danger of losing his belief in Christmas magic.
To a Boy Who Found Out It Wasn't Santa Who Brought the Presents
Dear James
I heard you found out that it wasn't Santa who put the presents in your stocking, but people who live with you every day.
I know this is a shocking discovery, and it would not be surprising if you felt cheated and confused.
This is also a very big moment on your journey of growing up. Actually, it's not big, it's ENORMOUS.
You have come to a fork in your road. If you let your feelings of disappointment and betrayal take you down the wrong path, you could very easily end up in the world of the Meanies who don't believe in any kind of magic at all, and therefore never have any. Go the other way and you'll come to know that, even if Mommy and Daddy filled the stocking, Santa is REAL. Not only is he real; he is MORE real than you could understand before you found out about the presents.
Let me explain.
When a story is as important as Santa's, lots of people will try to tell it their own way. So you'll hear that Santa was a saint who traveled the world producing marvels and good works many centuries ago. Or that he was a winter king in a great northern forest. Meanies might tell you he was dreamed up by slick advertising men so they can sell more stuff. It's often said that Santa lives at the North Pole with his elves. Most children I know, and some grown-ups, picture him flying through the sky with a team of reindeer. They are more right than all the rest.
I am going to tell you the true and original story of Santa. Accept no substitutes.
NEXT: Part One: The Making of a Reindeer Shaman
Thomas Nast's version of Santa Claus