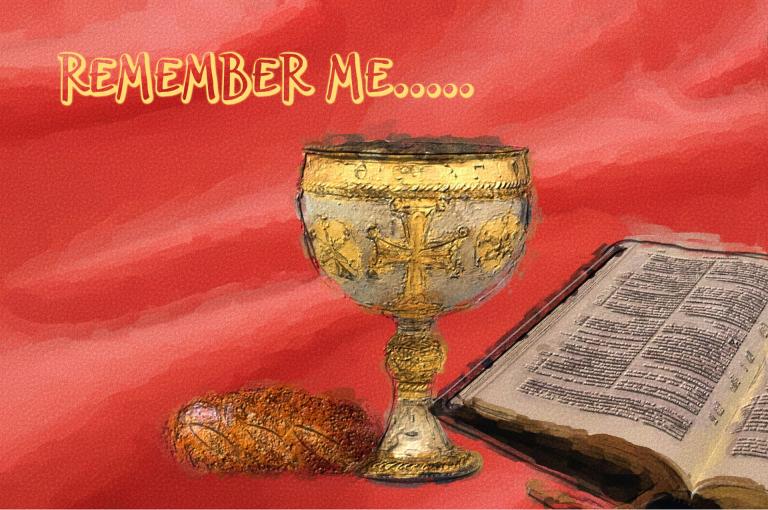 The pandemic has made the normal celebrations of Easter and Holy Week more challenging this year. During Palm Sunday, I worshipped on-line without my palm branch in hand. Instead, I had my coffee cup! The glorious music came through my computer screen. And while I am glad for the technology, it's not the same electrically charged atmosphere of a church service, especially during this glorious week. Easter is the most important day of the Christian calendar. Yet the build up this year has been subdued by the pandemic.
Tonight we are immersed in Maundy Thursday. We won't go to the church and have communion. It will be up to us to recreate this memorable night in our home. Hopefully, this will be the last year of limited gatherings. But as I talk to friends about Holy Week, I am surprised at the number of people who don't know the significance of this day.
The word, "Maundy" is derived from the Latin word mandatum, meaning commandment. If refers to the commandments Jesus gave His disciples at the Last Supper, the night He was betrayed. He told them to love with humility by serving one another; to remember His sacrifice through the breaking of bread and wine that was about to be received. It was their Passover meal. Jesus took bread and wine and blessed them. The bread He said represented His body given for us. We share 21st century bread but we eat it remembering Him. He then took a cup of wine, blessed it and told His disciples that it represented His blood, poured out for us. Do this also in remembrance of Him. This is why tonight, churches that can meet will have a Communion Service, remembering the Last Supper and Jesus' commands.
For me, it is a night set aside to be reflective and commemorate the life of Christ, His crucifixion and glorious resurrection–to remember the incredible sacrifice our Savior made for us and be thankful. And it is a reminder to love as Christ loved. "Beloved, let us love one another. For love is from God, and whoever loves has been born of God and knows God. Anyone who does not love does not know God, because God is love." (1 John 4:7-8). We could use a little more love in this world!
Tomorrow is even more solemn as we remember Good Friday. There was a purpose in all that suffering. Jesus, his mission and all it entailed; even so, he was obedient, all the way to his execution. Our sins were nailed to two rough planks of wood with him to cover the cost of our redemption. Without His sacrifice, we could not be justified to God. So he prepared. He prayed and walked out His purpose for our benefit.
So my friends, remember what Christ did for you this Maundy Thursday. Give thanks, love with humility and serve one another.