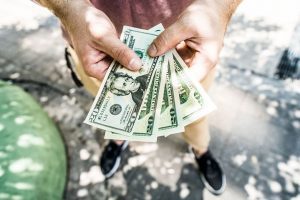 It's the most wonderful time of the year for those who have the money for holiday spending. But hey, most of us have to watch our budget so as not to engage in holiday overspending.
Here are a few suggestion I found on moneychangers.com. It's an interesting site with ideas to put a little cash in your pocket for all your holiday spending.
How about selling all your unwanted stuff? Honestly, the more clutter you clear, the better you feel. Someone can use that college bathroom caddy or that food processor you've never opened. As you begin to sort through the Christmas decorations, look around in your basement, attic or storage area. Are there things you are hanging on to…well just because you've never had a plan as to what to do with those things? Then have a garage sale and add the Christmas decorations you no longer use too!
OR if you don't have a garage or refuse to stand in the cold this time of year, try selling items on eBay or Craig's list. Just a caution when selling on Craig's list, always meet the buyer in a safe, public place and accept cash or online payment using services such as Paypal or Venmo only. You probably won't make enough to finance that ski trip, but you can certainly pocket some extra cash. Our neighbors really had this vision. I noticed large trucks pulling up to their driveway. Several men got out of the truck and started loading kitchen cabinets into their trucks. The men told me that our neighbors were remodeling their kitchen and sold the cabinets on Craig's list!
Another idea is to gather your unworn clothes, wash them up and get them ready for a consignment shop. I just sorted through bags of clothing I no longer wear and had hanging in a basement closet. I was shocked at how many items were nice, but unworn and decided it was time to give them away. Now, I took most of mine to the Good Will, but there were plenty of really nice items I could have taken to consignment for a little extra cash.
Finally, here is idea I found intriguing. Moneycrashers has this link to a site called FreeCycle Network. Members of the FreeCycle Network post things they are giving away or looking for, and then you basically trade or give things away to specific people.You can get things like a new waffle maker, a computer, golf cart, card board boxes for moving, and more. It just depends on what the members are giving away. The idea is that a local group gives away free items. Obviously, the downside is you don't know the people when you pick up an item so there are safety concerns. But it all has to be stuff you can legally give away–no drugs, guns, etc. This isn't for everyone, but it could be for you.
So get creative and perhaps you can make a little money to help with holiday spending!